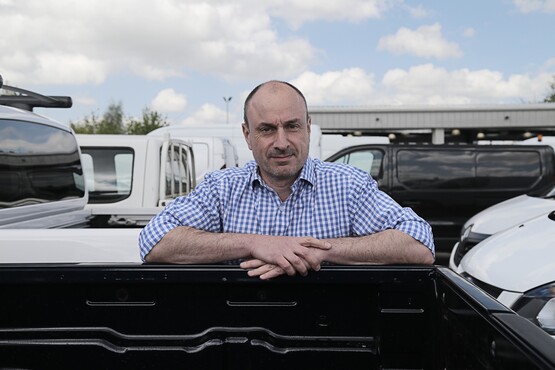 The new light commercial vehicle (LCV) market's faltering start continued in March, with new registrations declining 27.6% against the same point last year.
March, normally a huge registration month due to the introduction of the new plate, failed to materialise this year, with this the third straight month of decline.
March registrations totalled 40,613 units, with first quarter totals 23.6% down on the same point in 2021.
Of these, registrations of battery electric vehicles (BEVs) totalled 1,909 units, up 17.7% on twelve months ago.
Year to date (YTD) BEV registrations total 4,297 units, up 68.9%. Stellantis lead the way for LCV BEV registrations.
Peugeot is the only LCV manufacturer to exceed 1,000 BEV registrations so far in 2022, whilst Vauxhall accounted for 22.7% of all electric vans registered during the first quarter of 2022.
The number one selling eLCV is the Vivaro-e medium sized panel van, with over 500 units registered in March and 836 year-to-date.
All sectors declined in March. Vans below 2.0 tonne down 70.8%, Vans between 2.0-2.5t GVW Vans down 27.6%, the 2.5-3.5 tonne sector – which made up nearly 72.0% of all vans registered in the month – down 18.9% and Pickups down 48.4%.
Although registrations for 2022 are a quarter down after the first three months, Ford, and particularly the Ford Transit Custom, continue to dominate.
The Transit Custom currently outsells every other car and light commercial vehicle in the UK by some distance, registering 13,833 units against the next best, the Vauxhall Corsa with 9,797 units.
The Ford Transit finished second and the Ford Ranger 4th. Stellantis consolidated with four of its products in the top ten. The Vauxhall Vivaro was third, the Citroen Berlingo sixth, the Peugeot Partner 9th and its big brother, the Expert tenth.
Top five LCV registrations
YTD 2022

Mar 2022

Mar 2021

Ford Transit Custom

13,833

Ford Transit Custom

8,372

Ford Transit Custom

9,627

Ford Transit

8,413

Ford Transit

5,130

Ford Transit

4,516

Vauxhall Vivaro

4,757

Vauxhall Vivaro

3,054

Volkswagen Transporter

4,238

Ford Ranger

4,170

Ford Ranger

2,274

Ford Ranger

3,500

Citroen Berlingo

4,154

Volkswagen Transporter

1,859

Mercedes-Benz Sprinter

2,744
Although demand remains high, new registrations have been limited so far in 2022, reflecting a destabilised market affected by many complex factors.
Semiconductor shortages, raw material price increases, the effects of covid on the wider supply chain, record-high energy and fuel prices, spiralling inflation and the conflict in Ukraine have all seriously impacted industry and consumer spending power.
2022 is shaping up to be a third year of severe issues and obstacles for the light commercial vehicle sector.
Used LCV market overview
March recorded an 8.5% increase in sold stock at auction as many businesses neared the end of their tax year.
But as average sale prices decreased by 4.0% to just over £10,000, there are signs of a greater level of caution in the retail market as businesses make their current vehicles work harder, or look to older stock as replacements as buyers work to a tighter budget.
March in detail
Glass's auction data shows that the overall number of vehicles sold in March increased by 8.5% versus February but was 11% lower than the same point twelve months ago.
The average sales price for the month decreased by 4.0% but increased nearly 7.5% on March 2021.
The average age of vehicles sold during March increased by 1.7 months to 71.9 months, whilst the average mileage reduced slightly from 79,966 miles to 78,743 miles over the same period.
The latest average mileage is 5.1% higher than twelve months ago.
First time conversion rates for March fell for the fourth month running, down from 72.4% in February to 70.5%.
Used vehicles observed for sale in the wholesale market over the last month increased by just under three quarters of 1% to nearly 39,700.
Just over 45.5% were on sale for in excess of £20,000, 36.8% on sale for between £20,000 and £10,000, 12.8% on sale between £10,000 and £5,000 and just over 4.7% for £5,000 or less.
Glass's continues to monitor the LCV market closely and has an open dialogue with auction houses, manufacturers, leasing and rental companies, independent traders and dealers as well as the main industry bodies.
This information, combined with the wealth of knowledge in our CV team ensures Glass's valuations remain relevant in the marketplace.