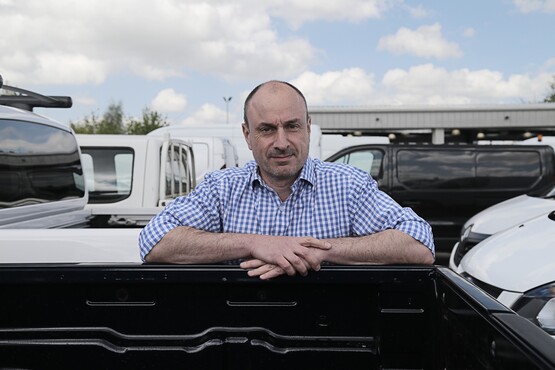 Andy Picton, chief commercial vehicle editor, Glass's
The new light commercial vehicle market (LCV) bounced back strongly in 2021, growing by more than 20% on a pandemic-hit 2020.
Manufacturers have fought hard to satisfy demand over the year, especially from the home delivery and construction sectors, ensuring that the backdrop of semi-conductor supply shortages and debilitating effects of the coronavirus did not overly affect production.
The 29,404 new registrations in December was 7.8% up on twelve months ago and the strongest Christmas month since 2015.
The 355,380 light commercial vehicles registered in 2021 was up 21.4% (62,723 units) on 2020.
This figure was 2.8% down on the 365,778 registered in 2019 and down 3.1% down on the 366,554 unit 2015-2019 average.
During 2021, registrations of battery electric vehicles (BEVs) rose to 12,759, increasing their market share from 1.8% in 2020 to 3.6%.
A mixed performance in December saw the Pickup sector increase by 45.4%, with both the Ford Ranger and Nissan Navara excelling.
Vans in the 2.5-3.5 tonne sector – which made up over 71.0% of all vans registered in the month – rose by 10.0%.
Vans below 2.0 tonne saw their registrations decline 43.0% on the same month in 2020, whilst vans between 2.0 – 2.5 tonne registered a 9.3% fall.
December concluded a great year for Ford and in particular the Transit Custom.
Finishing 2021 not only as the best-selling light commercial vehicle in December and for the whole of 2021, it also outsold every single car as well, making it the best-selling vehicle in the UK.
The Transit was second, registering 3,210 units in December and the Ranger was fifth.
Another positive month for the Stellantis Group saw the Vauxhall Vivaro, the Vauxhall Movano and the Peugeot Expert feature in third, seventh and ninth respectively.
The Mercedes-Benz duo of Sprinter and Vito held eighth and tenth positions, whilst the outgoing Nissan Navara registered enough units to see them finish in fourth.
Vauxhall was the UK's best-selling electric light commercial vehicle manufacturer, registering 2,916 e-LCVs during the year.
Top five LCV registrations
Full Year 2021

Dec 2021

Dec 2020

Ford Transit Custom

53,394

Ford Transit Custom

3,723

Ford Transit Custom

5,230

Ford Transit

34,293

Ford Transit

3,210

Volkswagen Transporter

2,103

Mercedes-Benz Sprinter

21,915

Vauxhall Vivaro

1,953

Ford Transit

2,009

Volkswagen Transporter

21,190

Nissan Navara

1,652

Mercedes-Benz Sprinter

1,763

Vauxhall Vivaro

17,957

Ford Ranger

1,454

Ford Ranger

1,414
Demand for new vehicles has been positive during 2021, with the outlook for 2022 equally as encouraging.
Registrations for 2021 easily outstripped 2020 and were not far off pre-Covid levels however, concerns remain over market unpredictability.
Component and raw material shortages have led to manufacturers prioritising certain models causing supply challenges and extended delivery times.
Rising taxation, inflation and utility bills along with the impact of the Omicron variant are also creating market volatility.
Used LCV market overview
Although the number of units sold dropped substantially in December, average auction prices fell by only 0.4%. Driven by a dearth of quality Euro 6 stock, average prices at auction remain just shy of £10,000.
As has been the case for the whole of 2021, demand for Euro 6 stock has remained strong throughout, with the expectation of more to come in the first quarter of 2022 as more businesses look to prioritise the de-fleeting of Euro 5 age stock.
Values for Euro 5 stock is starting to ease with demand for stock over 6 years old noticeably losing its appeal, although older stock with a good pedigree and sensible miles will always find a new home.
As greater volumes of this older stock appears in the used market, so values are expected to come under further pressure.
December in detail
Glass's auction data shows that the overall number of vehicles sold in December fell by nearly 27% versus November and was 2.5% lower than the same point twelve months ago.
After a record year of high prices and continued demand, there are signs of softening in the LCV market.
Average sales prices paid decreased by 0.4% during the month, but remain 16.2% higher than December 2020 and reflect the economic shift to online purchasing and home deliveries and the reduced supply of new vehicles.
The average age of vehicles sold decreased by 1.1 months to 80.7 months in December, whilst the average mileage also decreased from 83,377 to 83,082 miles over the same period.
The latest average mileage for December is 7.3% higher than twelve months ago.
First time conversion rates have dropped from 80.3% in November to 75.4% in December as the age profile and quality of stock changes. Nevertheless, 45.2% of all LCVs sold at auction during the month were over 6 years old.
Medium sized vans continue to be the most popular at auction accounting for 35% of all sales during December.
Used vehicles observed for sale in the wholesale market over the last month increased by 10 7% to nearly 37,500, with 42.5% on sale for in excess of £20,000, 37.7% on sale for between £20,000 and £10,000,14.3% on sale between £10,000 and £5,000 and 5.5% for £5,000 or less.
Glass's continues to monitor the LCV market closely and has an open dialogue with auction houses, manufacturers, leasing and rental companies, independent traders and dealers as well as the main industry bodies.
This information, combined with the wealth of knowledge in our CV team ensures Glass's valuations remain relevant in the marketplace.