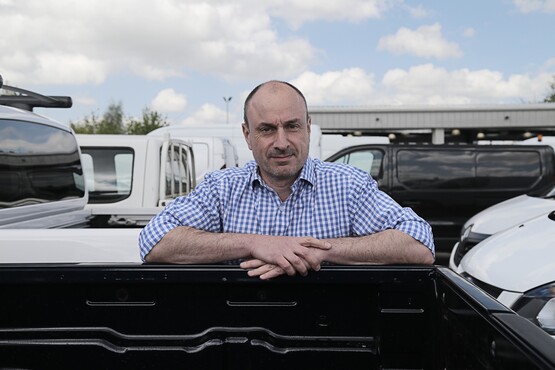 The new light commercial vehicle (LCV) market got off to a slow start, falling 26.9% compared to January last year.
Against a backdrop of continued semi-conductor shortages, rising raw material and energy costs and erratic fleet renewals, January proved to be as unpredictable as ever.
The 17,566 new registrations in January was the weakest start to a year since 2013.
This follows what was the best January for thirty-one years in 2021. Registrations of battery electric vehicles (BEVs) in January accounted for 3.7% (647 units) of the overall total, up 21.4% on the same point last year.
The slow performance in January saw registrations in all sectors decrease.
Vans below 2.0 tonne saw theirs decline 53.9% on the same period last year, Vans in the 2.5-3.5 tonne sector – which made up nearly 66.0% of all vans registered in the month – fell by 29.8%, Pickups fell by 17.4% and Vans between 2.0 – 2.5 tonne recorded a 17.1% fall.
The Ford Transit Custom has started 2022 positively, with the Ford Transit securing second spot and the Ford Ranger in fourth.
Vauxhall was the UK's best-selling electric light commercial vehicle manufacturer again in January, registering 160 e-LCVs during the month.
Top five LCV registrations
YTD 2022

Jan 2022

Jan 2021

Ford Transit Custom

2,814

Ford Transit Custom

2,814

Ford Transit Custom

2,711

Ford Transit

1,615

Ford Transit

1,615

Ford Transit

2,379

Mercedes-Benz Sprinter

1,508

Mercedes-Benz Sprinter

1,508

Mercedes-Benz Sprinter

1,931

Ford Ranger

1,314

Ford Ranger

1,314

Vauxhall Vivaro

1,415

Vauxhall Vivaro

1,069

Vauxhall Vivaro

1,069

Volkswagen Transporter

1,363
Although the outlook for LCV registrations in 2022 is encouraging, there is a concern that the cost-of-living squeeze and higher interest rates could result in a slowdown in online shopping as customers tighten their belts.
This in turn, could slow down the need for more vans to support the home delivery market. Market unpredictability will remain an issue, but component and raw material shortages will slowly improve as we move through the year.
Used LCV market overview
Although the number of units sold dropped substantially in January, average auction prices fell by only 0.4%.
Driven by a dearth of quality Euro 6 stock, average prices at auction remain just shy of £10,000.
As has been the case for the whole of 2021, demand for Euro 6 stock will continue as manufacturers struggle to supply new vehicles.
Businesses will prioritise the de-fleeting of hard-worked and now ageing Euro 5 stock that should have been replaced at the beginning of the pandemic.
The increase in older, higher mileage and poorer condition stock in the used market will inevitably result in a reduction in demand as the year progresses.
January in detail
Glass's auction data shows that the overall number of vehicles sold in January increased by over 45% versus December and was 10.3% higher than the same point twelve months ago.
Although auction stock levels have increased during the first month of the year, trade bidding is cautious.
This is due to more choice than at any time during the last two years and a currently subdued retail market. However, of those vehicles that have sold, the average sales price has increased by 11.7% on December and 15.4% on January 2021.
The average age of vehicles sold during January decreased by 6.0 months to 72.4 months, whilst the average mileage fell from 85,560 miles to 79,489 miles over the same period.
The latest average mileage is 1.89% lower than twelve months ago.
First time conversion rates fell from 75.1% in December to 73.1% in January. Over 62% of all LCVs sold at auction during the month were over 6 years old, whilst only 5.7% were under 2 years old.
Medium sized vans continue to be the most popular at auction accounting for 35% of all sales during January.
Used vehicles observed for sale in the wholesale market over the last month increased by 1 36% to over 38,000, with just under 44% on sale for in excess of £20,000, 37.2% on sale for between £20,000 and £10,000,14.0% on sale between £10,000 and £5,000 and 5.0% for £5,000 or less.
Glass's continues to monitor the LCV market closely and has an open dialogue with auction houses, manufacturers, leasing and rental companies, independent traders and dealers as well as the main industry bodies.
This information, combined with the wealth of knowledge in our CV team ensures Glass's valuations remain relevant in the marketplace.