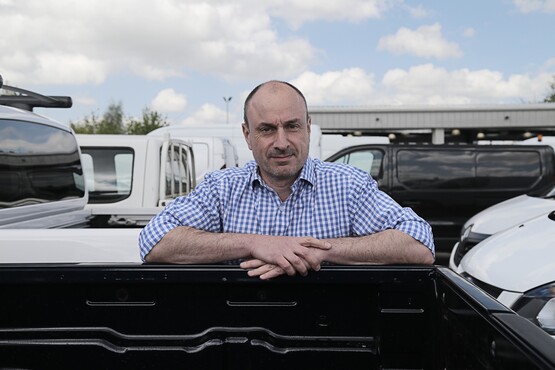 The new light commercial vehicle (LCV) market's stuttering start continued in February, with new registrations declining 6.0% against the same point last year.
Against a backdrop of the continued semi-conductor shortages, rising raw material and energy costs and a fleet market that is slowly making the switch to zero emission vehicles, February returned mixed fortunes.
February registrations totalled 16,165 units, with year-to-date totals 18.2% down on 2021.
Of these, registrations of battery electric vehicles (BEVs) totalled 1,741 units, up 347.6% on twelve months ago.
YTD BEV registrations total 2,388 units, up 159%. Peugeot has registered over 1,000 BEVs so far in 2022, ranking it the number one brand with over 50% share of the market in February.
All sectors except Vans between 2.0-2.5t GVW returned falls in February. Vans below 2.0 tonne declined 52.2%, Vans in the 2.5-3.5 tonne sector – which made up nearly 66.0% of all vans registered in the month – fell by 9.9%, whilst Pickups fell by 36.0%. The only positive was Vans between 2.0 – 2.5 tonne, which recorded a 36.9% increase.
Ford continued its strong start to the year, with the Transit Custom and Transit holding on to one and two, respectively.
The Ford Ranger was ninth. Stellantis had an amazing month with six of its products in the top ten.
Citroen saw the Berlingo and the Dispatch finish in third and seventh, Peugeot finished with the Partner and Expert in fourth and fifth respectively, whilst the Vauxhall Vivaro finished in eighth and the Combo in tenth.
Top five LCV registrations
YTD 2022

Feb 2022

Feb 2021

Ford Transit Custom

5,461

Ford Transit Custom

2,647

Ford Transit

2,699

Ford Transit

3,283

Ford Transit

1,668

Ford Transit Custom

1,979

Citroen Berlingo

2,483

Citroen Berlingo

1,588

Mercedes-Benz Sprinter

1,375

Mercedes-Benz Sprinter

2,473

Peugeot Partner

1,404

Peugeot Partner

945

Peugeot Partner

2,056

Peugeot Expert

977

Vauxhall Combo

860
Although the SMMT are hopeful that LCV registrations will be back to pre-pandemic levels this year, there are concerns that the ongoing supply shortages and ever-increasing cost of living challenges could result in further destabilisation and market unpredictability.
In addition, the conflict in Ukraine is likely to add another layer of complexity with further increases in raw material costs, supply chain disruptions and the suspension of manufacturer production.
Used LCV market overview
February recorded a 3% increase in sold stock at auction with an average sale price increasing by 1.4% to over £10,400.
Driven by deferred vehicle replacements, the current used stock profile is older, with higher miles and correspondingly poorer condition. Many of these require increased preparation, which has led to more caution from trade buyers.
February in detail
Glass's auction data shows that the overall number of vehicles sold in February increased by nearly 3% versus January but was 3% lower than the same point twelve months ago.
Of those vehicles sold during the month, the average sales price has increased by 1.4% and nearly 13% on February 2021.
The average age of vehicles sold during February decreased by 2.2 months to 70.2 months, whilst the average mileage increased slightly from 79,489 miles to 79,966 miles over the same period.
The latest average mileage is 1.91% higher than twelve months ago.
First time conversion rates fell for the third month running, down from 73.1% in January to 72.4% in February.
LCVs over 6 years old accounted for nearly 38% of all vehicles sold at auction, whilst only 8.9% were under 2 years old. Vehicles between 2-4 years old made up 28.9%. Medium sized vans continue to be the most popular at auction accounting for 36.5% of all sales during the month.
Used vehicles observed for sale in the wholesale market over the last month increased by 3.54% to nearly 39,400.
Just under 45% on sale for in excess of £20,000, 37.6% on sale for between £20,000 and £10,000, 13.3% on sale between £10,000 and £5,000 and 4.7% for £5,000 or less.
Glass's continues to monitor the LCV market closely and has an open dialogue with auction houses, manufacturers, leasing and rental companies, independent traders and dealers as well as the main industry bodies.
This information, combined with the wealth of knowledge in our CV team ensures Glass's valuations remain relevant in the marketplace.