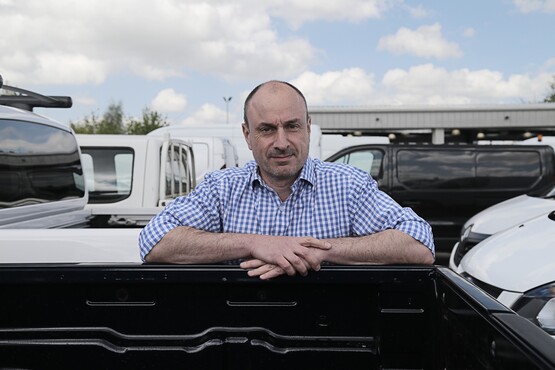 Andy Picton, chief commercial vehicle editor, Glass's (part of Autovista Group)
In what has been a challenging period, the new light commercial vehicle (LCV) market recorded its sixth straight month of decline in June.
Component shortages continue to hamper deliveries of new stock, with new registrations down 23.0% against a buoyant market 12 months ago and 26.5% down on the pre-pandemic average.
There were 26,443 units registered in June, against 34,363 twelve months ago.
Battery electric vehicles (BEVs) totalled 2,015 units (up 52.4% on 2021) and represented 7.6% of all new vans registered during the month.
Year-to-date (YTD) registrations of 144,384 units were 24.6% down on the same point in 2021.
YTD BEV registrations stand at 8,100 units and make up 5.6% of the overall LCV market. This figure is up 60.0% on 2021.
For the fourth month in a row, all sectors recorded falls in registrations.
Vans below 2.0 tonne declined 30.7%, whilst vans between 2.0-2.5t gross vehicle weight (GVW) vans fell 43.7%.
The 2.5-3.5 tonne sector – which made up over 77.3% of all vans registered in the month – dropped 16.3%, whilst the pickup sector returned a 37.6% drop.
Ford continue to deliver, with the Transit Custom again at number one, registering 3,707 units, the Ford Transit at two with 3,531 units, the Ford Ranger at five with 1,319 units and the Ford Transit Connect in eighth with 953 units.
The Vauxhall Vivaro, Citroen Relay and Peugeot Boxer from Stellantis finished in third (1,878 units), seventh (1,061 units) and tenth (884 units) respectively.
Mercedes-Benz, Volkswagen and Renault filled the remaining top-ten positions.
The Vauxhall Vivaro-e remains the best-selling electric van in the UK with 809 units registered in June and 2,649 YTD.
Top five LCV registrations
YTD 2022

June 2022

June 2021

Ford Transit Custom

24,141

Ford Transit Custom

3,707

Ford Transit Custom

4,015

Ford Transit

17,782

Ford Transit

3,531

Ford Transit

3,008

Vauxhall Vivaro

9,314

Vauxhall Vivaro

1,878

Volkswagen Transporter

2,677

Mercedes-Benz Sprinter

7,843

Mercedes-Benz Sprinter

1,480

Vauxhall Vivaro

2,557

Vauxhall Vivaro

7,692

Ford Ranger

1,319

Mercedes-Benz Sprinter

1,909
The shortage of components including semiconductors has been severe on production, restricting supply and extending delivery times.
At the same time, manufacturers are ramping up production of electric LCVs as the industry looks to meet their 2030 obligations in conjunction with tighter Co2 emissions targets.
Used LCV market overview
Sales of used stock at auction rose in June. On average, over 200 more units sold with lower mileages and at higher first time conversion rates however, the average amount paid to secure these vehicles dropped by nearly 3%.
June in detail
Glass's auction data shows that the overall number of vehicles sold increased in June by 7.4% versus May, but was 27.8% lower than the same point twelve months ago.
The average sales price for the month decreased by 2.7% and was 3.1% lower than June 2021.
The average age of vehicles sold during June decreased by 2.9 months to 73.2 months, whilst the average mileage also reduced from 83,679 miles to 81,198 over the same period.
The latest average mileage is over 9,500 miles more than twelve months ago.
First time conversion rates for June rose for the second consecutive month, up from 69.4% in May to 71.4%.
Used vehicles observed for sale in the wholesale market over the last month rose by 1.2% to nearly 41,150 units.
Nearly 46.2% were on sale for over £20,000, just under 38% on sale for between £20,000 and £10,000, 12.1% were on sale between £10,000 and £5,000 and just under 4.5% for £5,000 or less.
Glass's continues to monitor the LCV market closely and has an open dialogue with auction houses, manufacturers, leasing and rental companies, independent traders and dealers as well as the main industry bodies.
This information, combined with the wealth of knowledge in our CV team ensures Glass's valuations remain relevant in the marketplace.
> Interested in comparing electric vehicle data? Check out our EV tool.
> Interested in ensuring the efficient use of EVs. Check out our dedicated editorial sections: Insight & policy | EV news | Charging & infrastructure | Costs & incentives | Benefit-in-kind | EV case studies | EV road tests