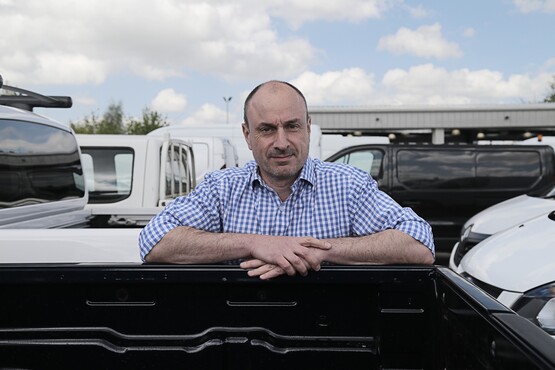 Andy Picton, chief commercial vehicle editor at Glass's (part of Autovista Group)
The new light commercial vehicle (LCV) market declined for the fifth straight month in May, with new registrations down 25.1% against the same point last year.
Although set against a record May 2021, registration levels were still 21.5% down the pre-pandemic average.
May registrations totalled 22,000 units exactly, against 29,354 units 12 months ago.
Battery electric vehicles (BEVs) totalled 869 units (up 46.5% on 2021) and represented 4.0% of all new vans registered during the month.
Year-to-date (YTD) registrations of 117,941 units were 25.0% down on the same point in 2021.
YTD BEV registrations total 6,085 units and make up 5.2% of the overall LCV market. This figure is up 62.7% on 2021.
For the third month in a row, all sectors recorded falls in registrations.
Vans below 2.0 tonne declined 53.4%, whilst vans between 2.0-2.5t gross vehicle weight (GVW) fell 33.4%.
The 2.5-3.5 tonne sector – which made up over 72.0% of all vans registered in the month – dropped 19.4%, whilst the pickup sector returned a 26.9% fall.
Ford continue to deliver, registering 59.5% of the top ten models to hit the road in May.
With the Transit Custom again at number one, registering 3,244 units, the Ford Transit at two with 2,851 units, the Ford Ranger at five with 1,115 units and the Ford Transit Connect in eighth with 719 units.
The Vauxhall Vivaro, Citroen Relay and Citroen Dispatch from Stellantis finished in fourth (1,211 units), ninth (632 units) and tenth (618 units) respectively.
Mercedes-Benz, Toyota and Volkswagen filled the remaining top-ten positions. The Vauxhall Vivaro-e remains the best-selling electric van in the UK with 212 units registered in May and 1,424 YTD.
Top five LCV registrations
YTD 2022

May 2022

May 2021

Ford Transit Custom

20,434

Ford Transit Custom

3,244

Ford Transit Custom

4,065

Ford Transit

14,251

Ford Transit

2,851

Ford Transit

2,401

Vauxhall Vivaro

7,436

Mercedes-Benz Sprinter

1,256

Volkswagen Transporter

1,872

Ford Ranger

6,373

Vauxhall Vivaro

1,211

Vauxhall Vivaro

1,801

Mercedes-Benz Sprinter

6,363

Ford Ranger

1,115

Mercedes-Benz Sprinter

1,597
Although order banks are full, new registrations continue to dive, with shortages of key components restricting production and hampering new vehicle deliveries.
These delays have caused van operators and owners keep hold of their vehicles for longer as can be reflected in the latest 2021 Motorparc report, which shows the LCV vehicle parc has risen by 4.3% to over 4.8 million.
This total includes just under 27,000 electric vans (0.6%).
This indicates that although both internal combustion engine (ICE) cars and vans have the same end of sale date, the take up of electric LCVs is approximately two years behind cars, with nearly 60% of existing van owners more likely to switch if there was more public charging points or better government incentives.
Used LCV market overview
Sales of used stock at auction remained near unchanged in May, with only 27 less units sold during the month.
Businesses continue to work their existing vehicles harder, under pressure from spiralling costs and ever-increasing fuel prices.
May in detail
Glass's auction data shows that the overall number of vehicles sold decreased in by 1% versus April and was over 33.0% lower than the same point twelve months ago.
The average sales price for the month increased by 0.8% as a shortage of quality stock forced prices up and was still over 6.3% higher than May 2021.
The average age of vehicles sold during May decreased by 0.1 months to 76.1 months, whilst the average mileage increased from 81,893 miles to 83,679 miles over the same period.
The latest average mileage is over 4,850 miles more than twelve months ago.
First time conversion rates for May rose for the first time in five months, up from 68.7% in April to 69.4%.
Used vehicles observed for sale in the wholesale market over the last month remained relatively static with a 0.7% increase to nearly 40,650.
Just over 46.1% were on sale for in excess of £20,000, 37.7% on sale for between £20,000 and £10,000, 12.2% on sale between £10,000 and £5,000 and just over 4.0% for £5,000 or less.
Glass's continues to monitor the LCV market closely and has an open dialogue with auction houses, manufacturers, leasing and rental companies, independent traders and dealers as well as the main industry bodies.
This information, combined with the wealth of knowledge in our CV team ensures Glass's valuations remain relevant in the marketplace.