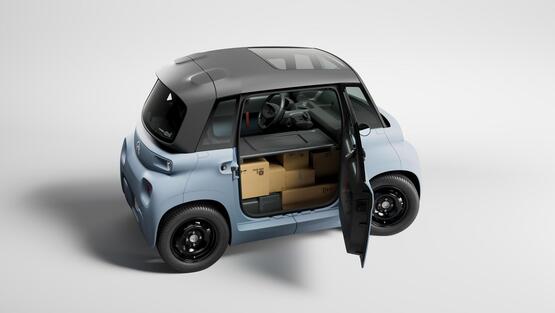 Citroen will launch a commercial version of its electric Ami city car next year.
The Ami Cargo will provide a payload of 140Kg and a maximum load capacity of 400 litres.
Powered by a 5.5kWh battery, the left-hand-drive one-seater can cover up to 46 miles per charge.
The model is 2.41m long, 1.39m wide and 1.52m tall, and has a tight turning circle of just 7.20m, ideal for city driving, manoeuvres and parking.
Its interior has been re-designed for greater practicality. The passenger seat found in regular Ami models has been replaced by a seven-part polypropylene module that can hold up to 260-litres and 140kg of cargo or goods. This extends the interior storage already available, giving Ami Cargo a total load capacity of 400-litres.
There is also a vertical partition between the driver and cargo area. Positioned to provide optimum space behind the wheel, it ensures the driver is always protected when out on the road. The vehicle is also fitted with a secondary modular shelf unit capable of holding up to 40kg, which can be converted into a desk when parked. There is also a two-way adjustable floor allowing the vehicle to carry larger items.
Eurig Druce, managing director of Citroen UK, said: "I am incredibly excited to see the Ami Cargo arrive in the UK next year. With more cities across the UK introducing restrictions for conventional vehicles, Ami Cargo Electric will provide businesses and fleet customers with the opportunity to continue their urban and last-mile operations in a practical, sustainable and cost-efficient way."
The Ami Cargo is available for reservation now, for a £250 refundable deposit.
Launch timings, pricing, specification details and supply arrangements will be communicated in due course.
> Interested in comparing electric vehicle data? Check out our EV tool.
> Interested in ensuring the efficient use of EVs. Check out our dedicated editorial sections: Insight & policy | EV news | Charging & infrastructure | Costs & incentives | Benefit-in-kind | EV case studies | EV road tests