A new study from environmental campaign group Transport & Environment has concluded that gas-powered trucks are no better for the climate than conventional diesel models.
Independent tests, commissioned by Transport & Environment, found that a truck powered by liquified natural gas (LNG) emits 13.4% more greenhouse gases than its diesel counterpart over a 20-year timeframe.
The gas truck's emissions savings at the tailpipe were negligible, according to the Technical University of Graz, which carried out the testing.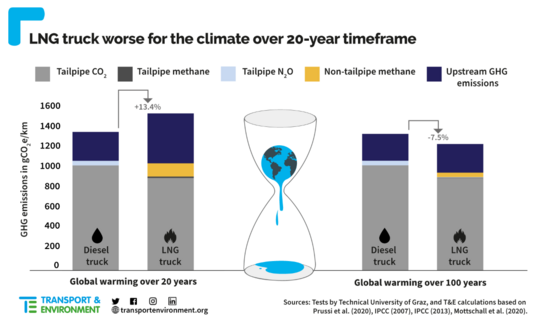 It looked at exhaust CO2, methane and nitrous oxide levels, analysing methane venting and upstream greenhouse gas emissions. The study found that over a 100-year timeframe, when methane is much less potent, the LNG truck emits 7.5% less than the diesel.
Fedor Unterlohner, freight manager at Transport & Environment, said: "Gas trucks are a dead-end for cutting emissions and will even exacerbate the climate crisis today. Only emissions-free vehicles are capable of decarbonising trucking. It's time for gas fuelling stations to be dropped from the EU's infrastructure targets and for governments to stop incentivising the purchase of LNG trucks."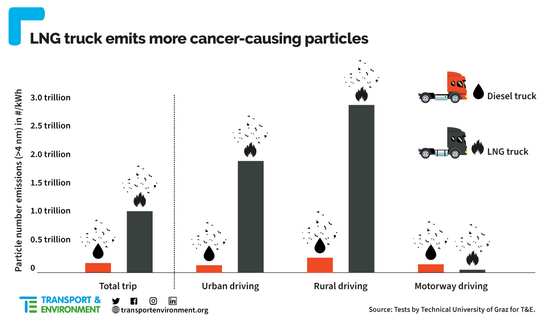 The LNG truck was also found to be far worse for cancer-causing particle emissions in cities and rural driving. In tests it emitted 37 times more ultrafine particles (PN) than the diesel. And, while the gas truck performed better than the diesel for NOx emissions, it did not deliver the 90% savings that the truckmaker claims.
Gas-powered trucks are favoured by many fleets as a solution to reduce carbon emissions, while the vehicles are also quieter to suit late-night urban deliveries.
The Government believes switching heavy goods vehicles (HGVs) to more environmentally friendly gas fuels, including biomethane, bio-compressed natural gas (CNG), and hydrogen, could cut greenhouse gas emissions by up to 38% by 2030.