It is generally acknowledged that the Ford Transit is Britain's best known light commercial vehicle. But looking across Europe, where the blue oval does not command such a massive market presence, that prize must go to the Volkswagen Transporter.
Going right back to the legendary "VeeDub Splitty" of the 1950s, the Transporter continues to be the medium van of choice for many fleets and has the honour of commanding the highest residual value of any LCV in the UK today. Put a few of these vehicles up for sale and the fleet manager will have a crowd of eager second buyers beating a path to the office door next day.
Of course today's Transporter bears no relation to its old ancestors. The T6 boasts a mass of technology that would only have been dreamed off back in the day and which gives this van as smooth a driving experience as most cars. Add to this legendary levels of reliability and it's easy to see why the Transporter remains such a fleet favourite.
The van on test is the Transporter T32 Sportline. At £45,965 ex-VAT plus £792 for the fancy paintwork it certainly isn't cheap, but both outside, in the cab, in the cargo end and under the bonnet this van has just about everything a driver could dream of – plus much more.
First glance at the pictures will show that this variant is not exactly a bog standard fleet model. In fact with its exterior bling, lowered suspension, leather-clad cab and 204PS diesel powerplant, it is probably the most dazzling van we've ever tested at Fleet News.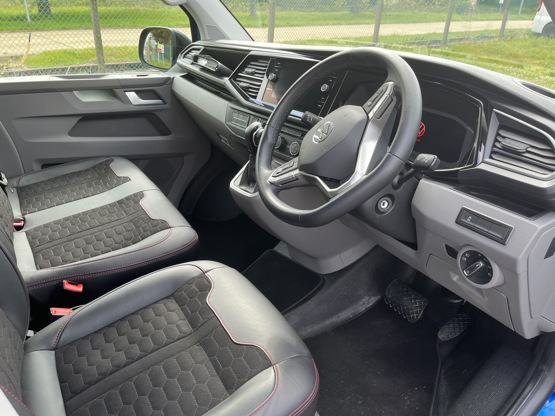 While we can't see any fleet manager ordering, say, 100 of these models, it does still have its place in business. Any firm wanting to portray a funky artistic image may well choose one of these for the managing director, if the boss doesn't ever need more than three seats.
Or, as we've stated many times before, one of these models against 50 standard fleet ones can be used for a competition among drivers. The driver with the best fuel consumption figure at the end of each month gets to use the snazzy van for the following month. With drivers competing with each other for that honour – and thus using less fuel – the extra cost of this van will quickly be recouped.
Suffice to say that during my test week I had a rather large grin on my face as this Transporter offers sheer driving pleasure.
In the cab, there are any number of little extras not usually found in vans, such as heated seats and a vanity mirror under both sunshades. And those seat - Nappa leather and Alcantara with red contrast stitching no less. They are firm and supportive and will not produce any back twinges on long journeys.
In the cargo area, the rear end features a tailgate in place of the more usual barn doors. It's great for standing under in the rain but care has to be taken opening the door as it comes out a lot further than you'd think. Get it wrong and you'll be rewarded with a mighty crack under the chin.
Our van was full ply-lined, which is an absolute must. If heavy or dirty items are carried about, without it there's a danger of causing a reverse ding or two, which are nigh on impossible to fix cost-effectively. When it's time to sell the van, the plywood can be pulled out to reveal and pristine rear end. Ply-lining pays for itself over and over again.
Meanwhile our van also had a plastic non-slip floor. This little extra may sound a bit so-whattish but without it, smaller items that can't be tied in will end up the length and breadth of the vehicle, as I have found out to my cost in the past with other vans when I have put a few bags of shopping in the back, only to find smashed eggs and milk glugging about on the floor when I got home.
On the road the seven-speed auto box makes for effortless driving and with a top speed of 126mph, there is more than enough power for any sensible fleet driver – more than enough, some fleet managers would opine!. Meanwhile, the lowered suspension gives this van cornering capabilities akin to a sports car. While the driver may revel in such capabilities, they may well cause the fleet manager to blanche instead!