Iveco has unveiled the new zero-emission eDaily, with a range of up to 400 kms (250 miles) and struck a fleet deal for 2,000 eDaily chassis cabs.
Orders for the new electric vehicle (EV) have opened across Europe, with deliveries starting from the beginning of next year.
Alessandro Massimino, head of marketing and product management for the Iveco Truck Business Unit, said: "As a key element of Iveco's product development strategy and transition roadmap, we designed eDaily with the objective of making its whole range electric while maintaining the features that our vehicle is celebrated for robustness, reliability, versatility, load capacity and performance.
"With its broad line-up, fully modular battery set and adaptability to a wide range of conversions and applications, the new eDaily brings electric to new missions and customers."
The entire Daily line-up is now also available in zero-emission version, offering up to 20m3 cargo volume, up to 4.6 tonnes of payload and up to 3.5 tonnes towing ability.
Performance is in line with the ICE version: 140kW (190CV) max power, 400Nm max torque and up to 120km/h (75mph) maximum speed.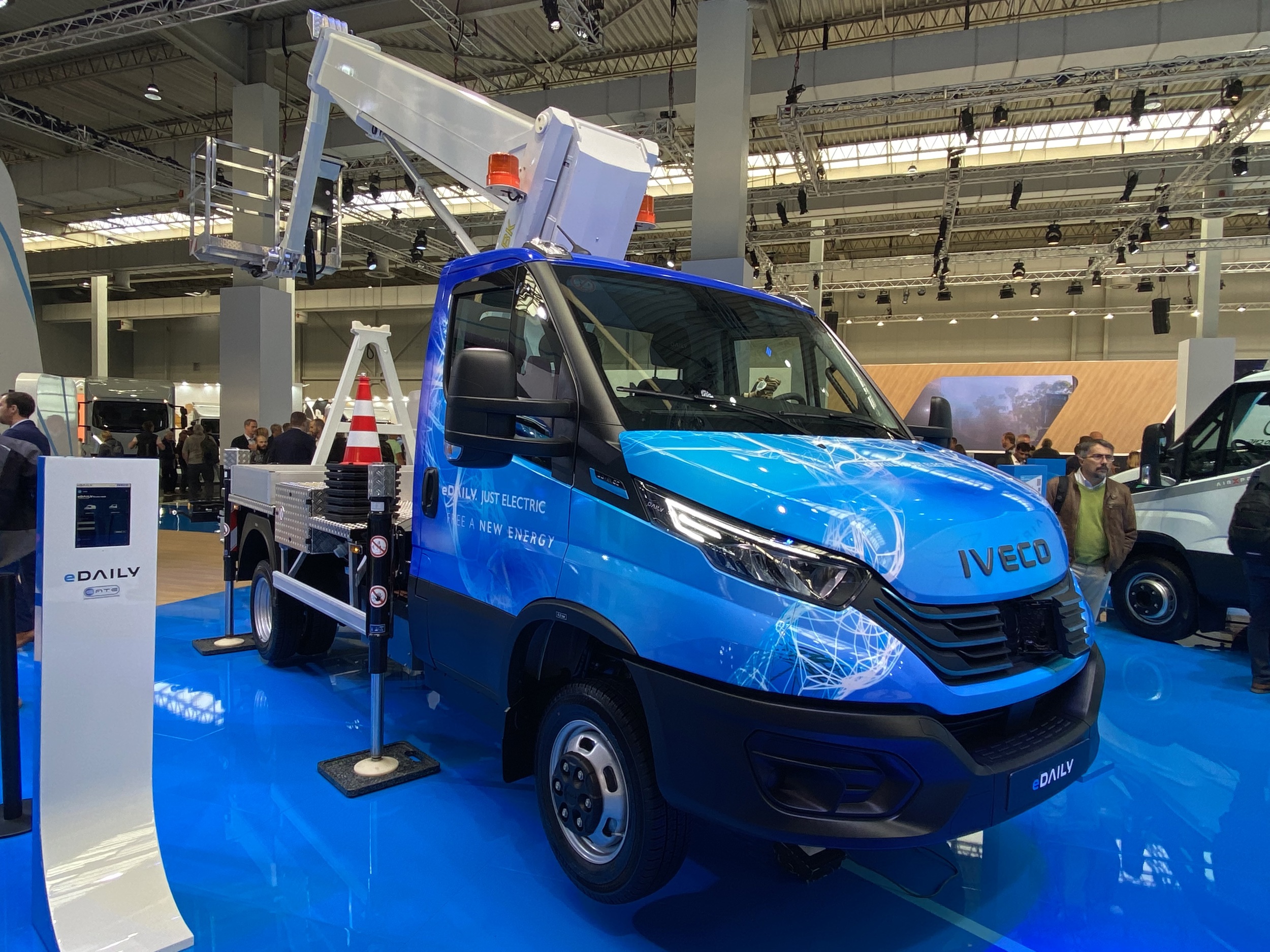 Driveability, says Iveco is improved by the instant torque delivery of the eMotor. When extra-power is needed, drivers can take advantage of an additional boost by activating eDaily's Hi-Power function.
Energy use can be optimised thanks to the Driving Mode Selector – which allows either to extract maximum power or minimise power absorption.
Meanwhile, modular battery installation allows customers to choose the level of range that best suits their operations and the configuration can be upgraded throughout the vehicle's life.
The eDaily is offered in van, cab, crew cab, chassis cowl and minibus body variants from 3.5 to 7.2 GVW, in single- wheel and twin-wheel versions, with a broad range of height and wheelbase options.
All technology and comfort features of the standard Daily are available on the electric model, including the Air-Pro intelligent pneumatic suspension.
Iveco and Petit Forestier sign fleet deal for 2,000 eDailys
Iveco and the Petit Forestier Group have signed Memorandum of Understanding for the supply of 2,000 eDaily chassis cabs, with delivery of the first 200 planned for 2023.
The vehicles will be fitted with refrigerated bodies by bodybuilder Lecapitaine, a wholly owned subsidiary of Petit Forestier.
The eDaily refrigerated vehicles will join Petit Forestier's extensive rental fleet.
Luca Sra, President, Truck Business Unit, Iveco Group stated: "Petit Forestier joined us on our path to green transport from the early days, transitioning to our natural gas vehicles when it was the only mature solution immediately available.
"Today, they are taking the next step with us as early adopters of our brand-new eDaily."
By 2023, Petit Forestier's customers operating in the EU, the UK and Switzerland will be offered priority access to rent the eDaily. The available fleet, initially comprised of 200 vehicles, will reach a total of 2,000 by 2026.
Léonard Forestier, president of Petit Forestier Group, said: "Committed to moving towards the energy transition, Petit Forestier is constantly developing its range of alternative energy refrigerated vehicles.
"We are working hand in hand with our partners, to provide to our customers, innovative solutions that meet environmental challenges.
"Today, we are proud to partner up with Iveco to promote the eDaily, the electric twin of the Daily, already highly appreciated for its performance, and to offer our customers priority access to this great innovation.
"This is a key milestone in the energy transition of the refrigerated supply chain."
The launch of the electric eDaily comes as Hyundai and Iveco unveiled the first Iveco eDaily fuel cell electric vehicle (FCEV).
Since signing a Memorandum of Understanding (MoU) in March 2022, Hyundai and Iveco Group have formed multiple joint working groups on various technological streams to explore ways that they can complement each other on the development of EVs and alternative propulsions.
Earlier in July, the two companies jointly announced hydrogen-powered Iveco bus equipped with Hyundai's fuel cell system.
> Interested in comparing electric vehicle data? Check out our EV tool.
> Interested in ensuring the efficient use of EVs. Check out our dedicated editorial sections: Insight & policy | EV news | Charging & infrastructure | Costs & incentives | Benefit-in-kind | EV case studies | EV road tests