UK light commercial vehicle (LCV) registrations fell by 25% to 22,000 units in May, the fifth consecutive month of decline, according to new figures from the Society of Motor Manufacturers and Traders (SMMT).
Although the fall is amplified in comparison with last year, which saw the highest May registrations total in history, the market was still some 21.5% below the pre-pandemic average as component shortages restricted production and therefore delivery.
All segments saw a fall in volumes during the month, although larger vans weighing more than 2.5 tonnes were less impacted, with a decline of 19.4%. Medium vans weighing greater than 2.0 to 2.5 tonnes declined by 33.4%. The largest fall was recorded in the 4x4 sector (-80.7%), although this is a low volume segment subject to volatility, said SMMT.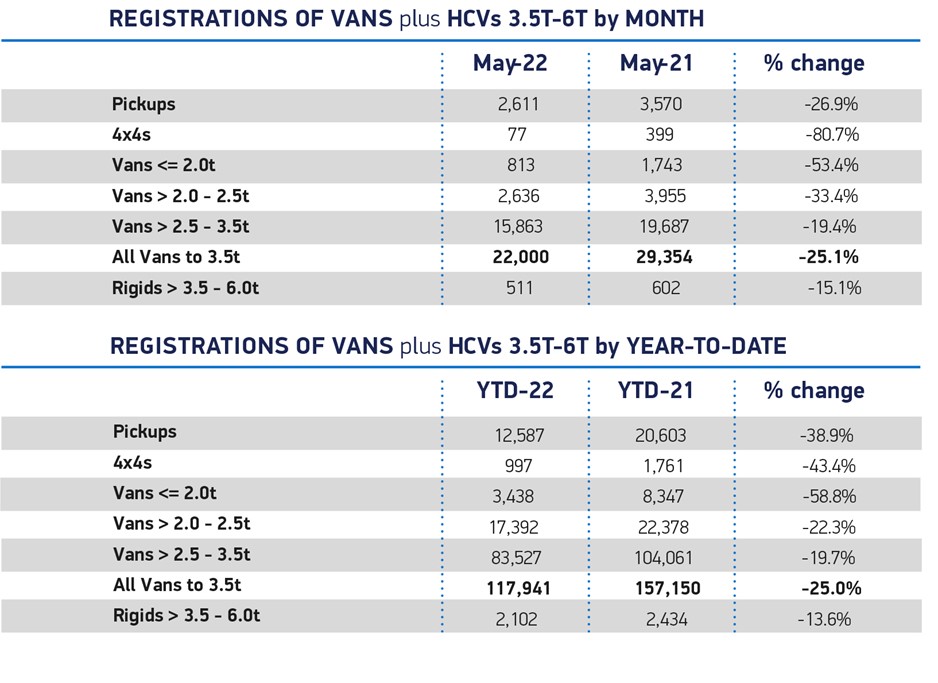 Mike Hawes, SMMT Chief Executive, said, "Global supply chain shortages continue to hold back the market following last May's post-pandemic bounce back.
"Manufacturers have, however, worked hard to get the latest zero-emission vans to customers, more than doubling their market share."
Some 869 battery electric vans (BEV) were registered in the month – 276 more than last May.
BEV registrations for the year to date are 62.7% higher than last year, due in part to significant large fleet orders delivered earlier in the year.
As a result, over the year to date, overall BEV market share has more than doubled to 5.2%.
However, Hawes said: "The sector lags behind the new car market, where, in the year to date, BEVs comprise 14% of new registrations.
"With pure petrol and diesel cars and vans facing the same 2030 end of sale date, the need for a 'van plan' to encourage operators to make the switch by providing long term incentives and dedicated van charging infrastructure is readily apparent."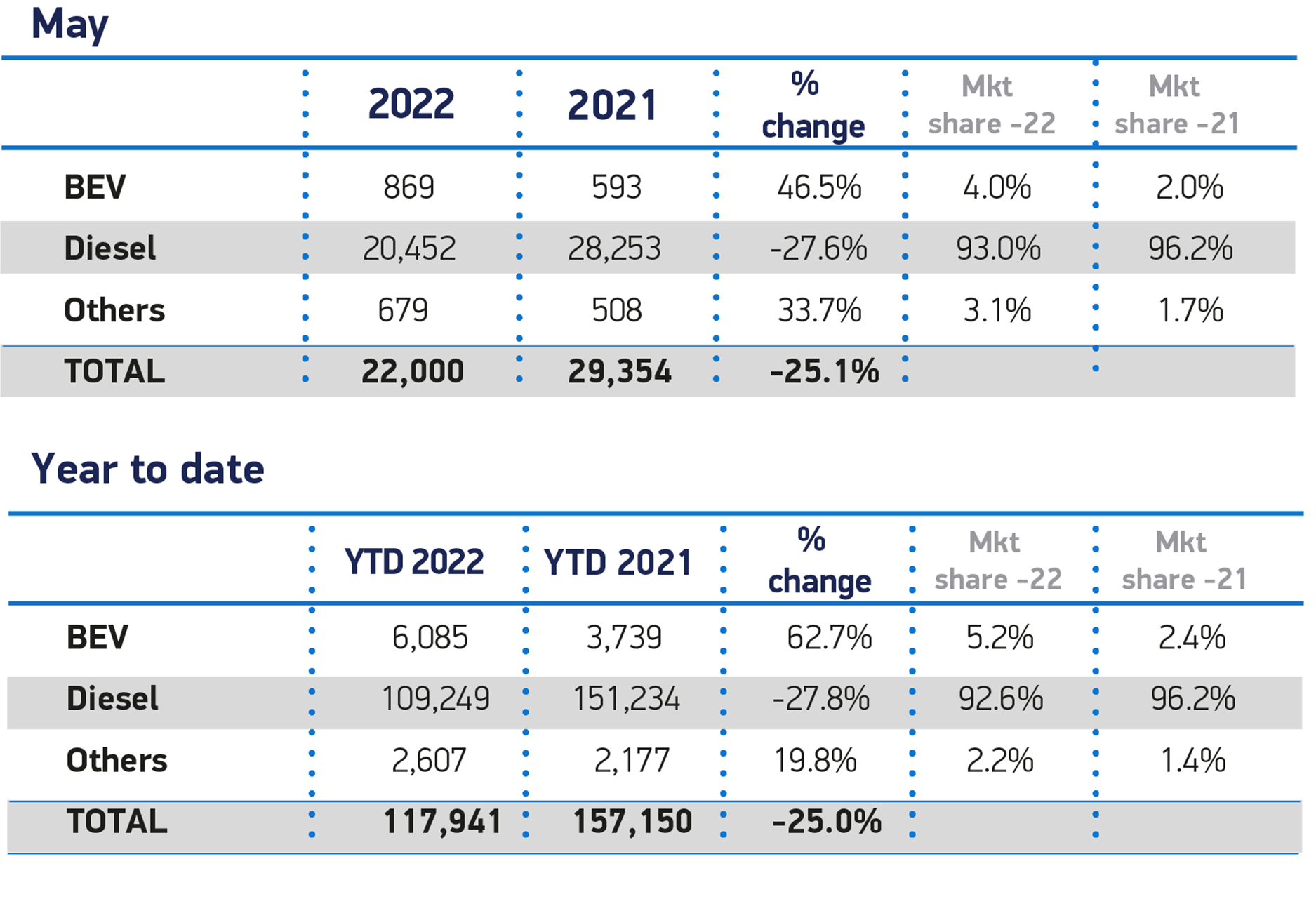 Electric vans comprise just one in 20 new registrations and account for around one in 180 in use. This is borne out by an SMMT survey released last month that revealed 58% of existing van owners would be encouraged to switch to an EV if there were more public charging points, while 57% said that government incentives such as reduced tax or grants towards purchase would help them to transition to electric.
"However, this is still an emerging market and everything must be done to encourage drivers to switch to zero emission commercial vehicles if we are to achieve our net zero goals," continued Hawes.
"The industry will tackle the supply chain challenges undermining delivery but we urgently need a van plan to address the paucity of dedicated commercial vehicle infrastructure, as well as incentives to boost the sector's electric transition."
The Vauxhall Vivaro-e remains the UK's best-selling electric light commercial vehicle (e-LCV). In May, 212 models were sold, with 1,424 sold in the first five months of the year.
Paul Willcox, managing director of Vauxhall, said: "The Vivaro-e continues to be the go-to choice for fleets and businesses requiring an efficient and capable zero-emissions-in-use van.
"The e-LCV sector is a vital and growing sector for the industry as businesses look to reduce overheads and emissions, and it's fantastic to see the Vauxhall Vivaro-e remain popular with those making the switch to electric."