Record diesel prices and rapidly rising wages for drivers are taking their toll on UK hauliers, with almost one third at risk of imminent collapse, new analysis suggests.
Accountancy firm Price Bailey checked the credit risk scores of all 96,102 businesses in the UK haulage sector. It found that nearly a third of hauliers, 28,557, have a Delphi Risk score in the 'maximum risk' category.
Businesses deemed maximum risk find it difficult to access funding without personal guarantees from directors and are highly likely to be subject to winding up petitions or intention to dissolve notices in the next 12 months.
The number of road haulage businesses placed in this risk category have more than doubled over the past year, rising from 14,020 at the end of March 2021.
Price Bailey says that many hauliers have no option but to absorb cost increases from rising oil prices and wage demands, eroding already wafer-thin margins.
While most hauliers pass on the cost of fuel to customers, in the form of a fuel surcharge, the amount is usually reviewed monthly, meaning that sharp rises in fuel prices in a matter of weeks cannot be recovered until the following month.
The price of diesel has jumped by 58% since June 2020, from 113 pence per litre (ppl) to 177ppl.
In March alone, the cost of diesel surged by 22%, from 155ppl. At the same time there have been numerous reports of HGV drivers receiving double-digit pay rises.
John Warren, partner at Price Bailey, said: "The road haulage sector is facing a wave of business failures.
"Nearly a third of hauliers are at imminent risk of collapse in the coming months, more than double the number 12 months ago.
"Businesses deemed maximum credit risk will find it almost impossible to access extra funding unless directors provide personal guarantees. Few directors will be brave enough to risk their personal assets to secure emergency funding in the months ahead."
Hauliers, explained Warren, are facing a "perfect storm" of record fuel costs and high wage demands.
"In isolation these would prove a difficult challenge but in combination they are likely to prove fatal to many haulage businesses," he said.
"Haulage is a low margin business. In many cases the fuel price rises we have seen over the last month will have completely wiped out any profits hauliers would have made on margins of just a few per cent."
Number of road freight companies with a maximum credit risk score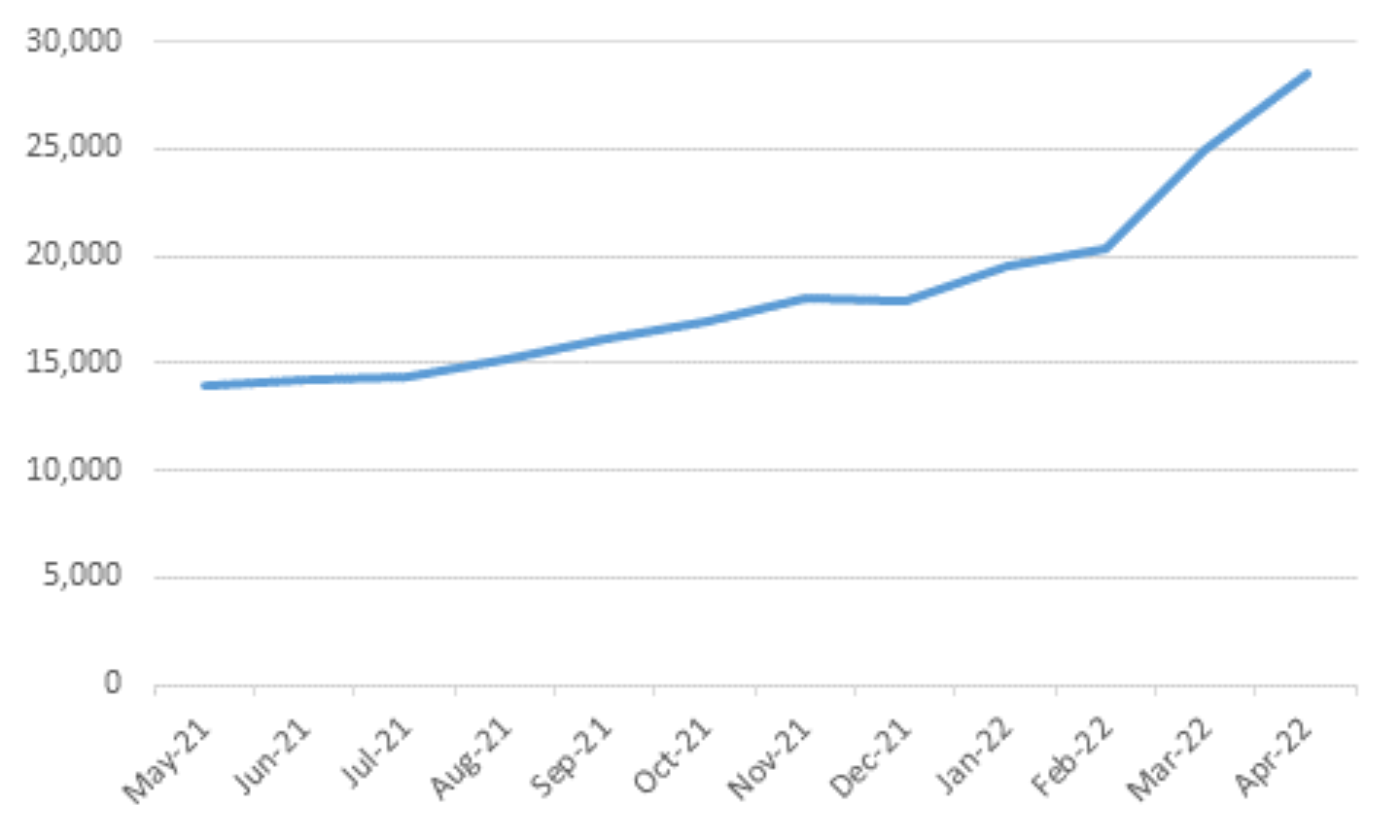 According to Price Bailey, the rising cost of road freight due to the dislocation of supply chains caused by Brexit and Covid-19 led many bulk cargo owners to negotiate lengthy contracts with hauliers in anticipation of a hardening market.
This, it says, locked in the price-per-mile significantly below the current rate on the spot market, which has spiked over the past month or so due to the war in Ukraine.
Warren said: "The hardening road freight market over the past year spurred many cargo owners to lock hauliers into longer term contracts.
"When diesel prices jumped by 16% over the last month many hauliers were left having to service those contracts at close to zero margin or even at a loss."
He added: "In the long run hauliers can put up prices but those locked into fixed-price contracts will just have to bite the bullet for now.
"Many of our haulage sector clients are having to wait up to 90 days to get paid on top of seeing their fuel bills jump by thousands, creating a cash gap and potential solvency issues."
Price Bailey also points out that the cost of new and second-hand cabs and trailers has rocketed over the past year or so with a corresponding increase in insurance costs.
For example, units costing £85,000 plus VAT with three months delivery last year are now costing £115,000 with at least eight months delivery.