The average price-per-mile for haulage and courier vehicles has increased by 5.3 points between November and December, as a result of inflation and Brexit.
After a 3.3-point drop between September and November, the average has reached its highest level since January 2019 according to the TEG Road Transport Price Index.
The surge came during a month when inflation hit a 10-year high, which resulted in the first interest-rate rise in three years.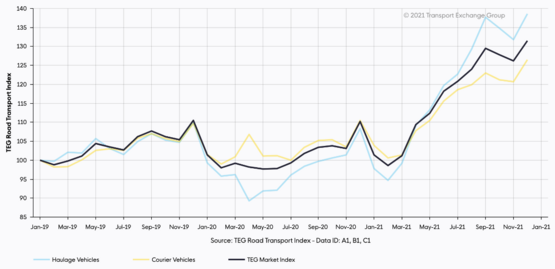 Lyall Cresswell, CEO of Transport Exchange Group, said: "This December surge was expected, thanks to historical TEG data, not to mention it being a period of extreme demand for haulage and courier services.
"Brexit and Covid-19 continue to be the two main headaches for the road freight industry. Brexit has not only caused many drivers to leave the industry: it's also resulted in much more red tape and delays whenever drivers cross borders. And further changes in 2022 will require businesses and logistics industry professionals to adapt yet again.
"We could also see more delays in recruiting new drivers as the new Omicron variant leads to more people quarantining."
The rise in petrol prices is a big factor driving this inflation – as well as the hike in charges for road freight services. According to ONS figures, petrol hit a highest-ever price of 145.8 pence per litre in November 2021, compared to 112.6 pence per litre a year earlier – a rise of almost 30%.
The TEG index also shows that year-on-year, the average price-per-mile for haulage vehicles increased by 30.3 points in December 2021. Courier vehicle prices have also reached a peak since January 2019 - with a 16 point year-on-year increase in December 2021.
Further disruption expected
Moving into 2022, retail experts are predicting a slump in economic growth, with Omicron leading to reduced spending on hospitality and in-person services, and more people buying goods. This is expected to cause continued strain on supply chains, which could hit the food industry particularly hard. The sector is striving to adapt to a post-Brexit world, but is suffering labour shortages that are endangering food security.
Businesses faced a new challenge as soon as the New Year began: full customs checks on EU imports to the UK were introduced on January 1. As well as disruption at the border, this change could also lead to costs incurred through non-compliance.
Van drivers will also come up against more bureaucracy. From May 2022, they will need a new licence to enter the EU. Small traders – such as couriers and importers of wine or antiques – could incur costs of up to £1,100.
Kirsten Tisdale, director of logistics consultants Aricia Limited and Fellow of the Chartered Institute of Logistics & Transport, added: "What we're seeing with the TEG Index is a combination of a normal seasonal high, superimposed over driver availability and other cost issues. The uplift from November to December at the end of 2021 is not dissimilar as a percentage to that in 2019 but starting from a much higher base. Haulage continues to track at a somewhat higher level when compared with the courier element, and we know from Logistics UK's recent Skills & Employment Report 2021 that the latest figures show there are now less HGV than van drivers."