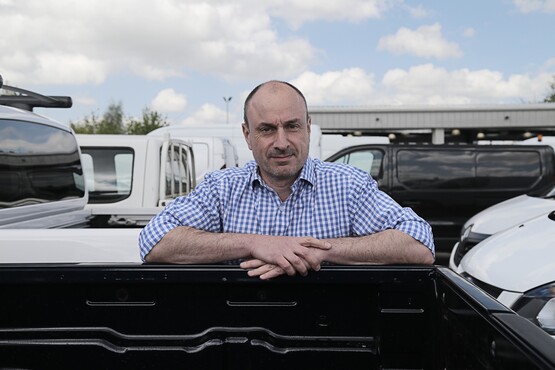 Andy Picton, chief commercial vehicle editor, Glass's (part of Autovista Group)
Coinciding with the new plate launch in September, the UK's light commercial vehicle (LCV) market rose 10.8%, marking the first month of growth in 2022.
This performance needs to be put into perspective though as registrations for last September were the lowest for the month since the 2009 recession, with September's achievements still some 35.5% below the five-year pre-pandemic average of 54,207 units.
There were 34,950 new registrations in September. Of those, 4.4% or 1,550 were battery electric vehicles (BEVs), up 70.0% on 2021. Year-to-date (YTD) registrations of 213,576 units were 20.1% down on the same point in 2021.
YTD BEV registrations stand at 11,359 units and make up 5.3% of the overall LCV market. This figure is up 52.9% on 2021. The Vauxhall Vivaro-e remains the best-selling electric van with 3,010 units registered YTD.
Compared with September 2021, registrations in the vans between 2.0-2.5t gross vehicle weight (GVW) sector increased by 40.8%, whilst vans in the 2.5-3.5 tonne sector – which made up 73.8% of all vans registered in the month – rose by 13.9%. The pickup sector returned a 13.7% decline and vans below 2.0 tonne sector fell 21.5%.
Looking at specific model ranges, Ford took the top three places, with the Transit Custom, Transit and Ranger, respectively. The Ford Transit Connect was seventh with 1,588 units registered.
The Stellantis duo of Vauxhall Vivaro and Peugeot Expert were fourth and tenth (1,055 units) respectively, whilst the remaining top 10 positions were claimed by the Volkswagen Transporter (5th), the Renault Trafic (6th), the Mercedes-Benz Sprinter (8th) and Volkswagen Crafter (9th).
Top five LCV registrations
YTD 2022

September 2022

September 2021

Ford Transit Custom

33,564

Ford Transit Custom

4,783

Ford Transit Custom

5,366

Ford Transit

25,178

Ford Transit

3,630

Ford Transit

3,335

Vauxhall Vivaro

13,346

Ford Ranger

2,660

Mercedes-Benz Sprinter

2,626

Ford Ranger

12,011

Vauxhall Vivaro

2,396

Toyota Hilux

1,790

Mercedes-Benz Sprinter

11,699

Volkswagen Transporter

2,021

Ford Ranger

1,740
Despite strong order books for 2022, the supply of new vehicles continues to be a challenge.
With rising costs and component shortages continuing to test the market, UK van registrations for the year to date currently sit 24.8% below the pre-pandemic five-year average of 283,883 units.
With supply shortaqes expected to continue well into next year, any recovery of the new LCV market remains some way off.
Used LCV market overview
Numbers of used stock sold at auction decreased by 7.9% in September.
Although the month started brightly with strong conversion rates, by the end of the month, uncertainty in the UK economy was starting to have an effect on sales.
September in detail
Glass's data shows that the overall number of vehicles sold at auction decreased by 7.9% versus August and was 19.1% lower than the same point 12 months ago.
The most popular sector was medium van accounting for 39.1% of all auction sales. The average sales price for the month decreased by 0.51% and was 5.1% lower than September 2021.
The strongest average sales prices were paid for stock in the 4x4 sector. The average age of vehicles sold during September increased by 3.2 months to 75.6 months, whilst the average mileage increased to 82,092 miles from 78,844 in August.
The latest average mileage is more than 2,900 miles more than twelve months ago.
First time conversion rates for September improved by 4.8% to 79.6%, but were 1.3% down on this time last year.
The small van sector returned the best conversion rate at 83.7% (up 3.0% on August), whilst the weakest performing was the 4x4 sector at 71.9%, albeit, this was a 7.3% improvement month-on-month (MoM).
Used vehicles observed for sale in the wholesale market over the last month dropped by nearly 1.75% to nearly 40,700 units.
Just over 46% of these vehicles were on sale for £20,000 or more, whilst 37.7% were on sale for between £20,000 and £10,000.
At the lower end of the market, the volumes remained relatively unchanged with 12.5% of vehicles on sale between £10,000 and £5,000 and 4.0% on sale for £5,000 or less.
Glass's continues to monitor the LCV market closely and has an open dialogue with auction houses, manufacturers, leasing and rental companies, independent traders and dealers as well as the main industry bodies.
This information, combined with the wealth of knowledge in our commercial vehicle team ensures Glass's valuations remain relevant in the marketplace.