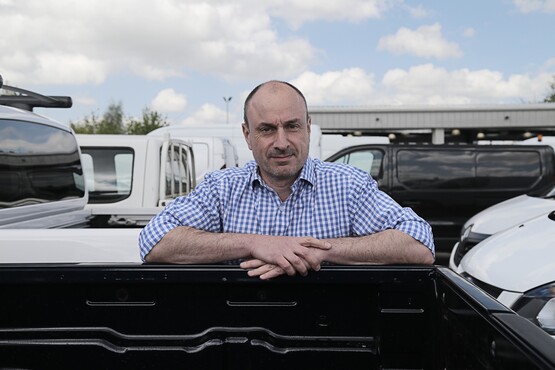 Andy Picton, chief commercial vehicle editor, Glass's
The light commercial vehicle (LCV) market returned its second best August on record, with 20,582 new vehicles hitting the road.
This was 1,175 units (5.7% up) on a COVID-impacted August 2020 and 2.6% up on the Jan-Aug pre-pandemic 5-year average.
This year has seen semi-conductor and raw material shortages affect commercial vehicle manufacturing in both in the UK and abroad.
New van registrations has been buoyed by strong demand and a recovering economy, but CV manufacturing is currently down 21.3% on the pre-pandemic average with current supply chain challenges expected to have an impact well into next year.
In August, all sectors except for Vans under 2.0t GVW recorded an increase in demand.
The pickup sector was up 9.8%, vans in the 2.5-3.5 tonne sector – which made up 68.8% of all vans registered in August - increased by 7.0%, whilst vans between 2.0 – 2.5 tonne increased 4.7%. Demand for Vans under 2.0 tonne declined 23.3%.
Another strong month for both Ford and the Stellantis Group, with both seeing four of their product ranges finish in the top ten registrations for August.
However, Ford secured the top three positions with the Transit Custom, its big brother the Transit and the Ranger pickup in podium positions. The Transit Connect was sixth.
The year-to-date performance is up 2.6% on the 2015-2019 average.
Year-to-date, 235,701 units have been registered in 2021 and reflect a market that is 51.1% higher than the same point last year.
Top five LCV registrations
YTD 2021

Aug 2021

Aug 2020

Ford Transit Custom

34,137

Ford Transit Custom

3,592

Mercedes-Benz Sprinter

3,471

Ford Transit

21,563

Ford Transit

2,161

Ford Transit Custom

2,181

Volkswagen Transporter

16,018

Ford Ranger

1,776

Ford Transit

1,211

Mercedes-Benz Sprinter

14,719

Mercedes-Benz Sprinter

1,654

Volkswagen Transporter

1,090

Ford Ranger

13,115

Volkswagen Transporter

1,488

Peugeot Partner

934
Although new registrations in the LCV market looks strong at present, there is still a high level of caution as the effects of the pandemic continue to distress the automotive industry.
Many manufacturers have highlighted delays and shortages for Q4 and have already started to prioritise production.
With COVID restrictions and ongoing supply chain shortages continuing to affect vehicle production, delivery of many vehicles has already been pushed back well into 2022, with the industry unsure as to when production will return to normal.
August 2021 used LCV market overview
With average auction prices now exceeding £10,000, this is a sure-fire reminder that there are big supply shortages in the used LCV market and huge demand for retail-ready LCVs.
Sales of Euro 6 stock in August accounted for nearly 64% of all vehicles sold during the month, with only 10.4% of those vehicles under two years old.
Although demand is healthy for new vehicles, production and raw material issues resulting in extended lead-in times, remain a major concern.
This has seen many de-fleets delayed, current vehicles run for longer, with replacements not available until Q2 2022.
Volumes of new stock entering the used market will remain low for the rest of the year, with expectations that shortages will persist well into 2022.
As a result, used prices look set to remain high not only for the remainder of the year, but well into H1 2022.
August in detail
Glass's auction data shows the overall number of vehicle sales in August decreased by a further 11.95% versus July 2021 and now stands at its lowest level since December last year.
This number was also 4.5% lower than twelve months ago and is a reflection of the shortage of stock currently available in the used marketplace.
Average sales prices paid increased by 1.12% versus July and stand 24.77% higher than the same point last year.
The average age of vehicles sold increased slightly from 73.3 months in July to 73.9 months in August, whilst the average mileage increased from 75,917 miles to 77,249.
The latest average mileage is 3,615 miles (+4.68%) higher than in August 2020.
Medium sized vans were again the most popular at auction accounting for 38.6% of all sales in August, whilst the highest proportion of all LCVs sold (36.2%) were in the over 6 years old age bracket.
In over 38,000 used vehicles observed for sale in the wholesale market, 49% were on sale for in excess of £20,000, 16% were on sale for less than £10,000 and 4% for less than £5,000.
Glass's continues to monitor the LCV market closely and has an open dialogue with auction houses, manufacturers, leasing and rental companies, independent traders and dealers as well as the main industry bodies.
This information, combined with the wealth of knowledge in our CV team ensures Glass's valuations remain relevant in the marketplace.