The launch of a new van is usually heralded by a great fanfare of trumpets and a swanky foreign trip for us journalists to assess the merits or otherwise of the fresh contender.
Thanks to Covid-19 restrictions last year, the arrival of the new uprated Volkswagen Caddy was more akin to a quick blast on a kazoo and a sandwich at the local pub. That was a great shame because this latest incarnation of an old fleet favourite deserved its time in the spotlight.
Back then, when we were severely restricted in where we could go, in place of a traditional launch, Fleet News was first in the queue to test a left-hand drive pre-launch model which had been imported into the UK from Germany. Now we've finally been able to get behind the wheel of a pukka British variant for a week – and pretty impressed we are with what's on offer.
In the meantime, the Caddy has picked up a raft of awards from various motoring magazines and it's hardly surprising as this van is all we have come to expect from German vehicles and more – superb build quality, state-of-the-art technology and a host of little extras that will make a driver's life more pleasant.
Weighing in at £24,360 ex-VAT, our test van is the Commerce Pro variant featuring a 2.0-litre diesel powerplant offering 122PS and returning 57.6mpg on the combined cycle. Payload is 638kg and there are 3.1 cubic metres of space at the business end.
On the outside, sparkly metallic paint (a £636 extra), alloy wheels and a sporty mesh grille make the Caddy one smart looking van. But the surprise is that the cab is as stylish as the exterior. With German products, it's usually a case of function over form, but the Caddy's cab is treated to a new arty swirling dash that reaches right across the vehicle and includes the large touchscreen which is now de rigueur in commercial vehicles.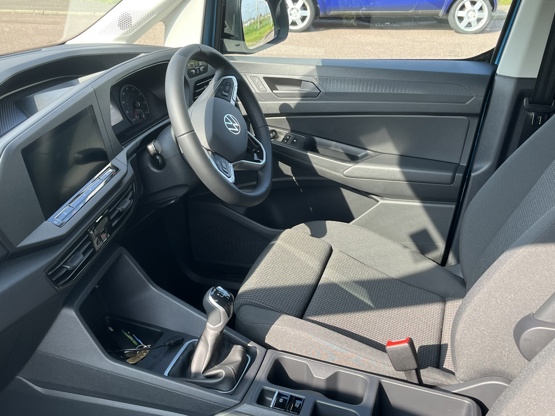 There are hardly any knobs and switches at all, so it took an old fogey like me a fair bit of cussing and swearing before I worked out even how to turn the heating in and adjust the radio! Like with most men, I refused to look in the manual to see how it all worked. Younger drivers would probably scoff at my bumbling and find their way round the various functions with ease.
The whole shebang makes the Caddy a most pleasing place for any fleet driver to spend his or her day.
Remembering my young days as a van journalist on Fleet News back in the 1990s when a even a radio didn't come as a standard fitment, it never ceases to amaze me how much modern fangle-danglery comes as part of the package nowadays and I shake my head in sorrow to see that all the wonderful safety systems added to vans don't seem to have made any impact on the death rates on our roads as a result of accidents.
Volkswagen was the first manufacturer to make the city emergency braking system standard across all its vans and we take our hats off to the manufacturer for that move. This little marvel will bring the van to a dead stop if it feels a collision is imminent when the vehicle is doing 30mph or under and I can vouch for its effectiveness as it worked in anger in a previous VW test vehicle I was driving when an idiot pulled right out in front of me from a side turning. The van came to a sudden and miraculous halt with no damage – and no input from me whatsoever
But that's just one of the safety devices this van boasts and it would just about fill the page to list them all. Suffice to say that if anyone manages to crash this van then they probably should not have a driving licence!
The business end boasts a tad over three cubic metres of loadspace and the standard van gets a kind of odd semi plastic ply lining. Buyers would be well advised to add a ply-lined floor to the bare metal to stop it getting scratched and scraped. It will also prevent stray loads from sliding about in the back, as happened when I drove a heap of detritus from my house in Essex to my holiday home in Devon.
Mind you, that trip did reveal that the driver and passenger seats are big, comfortable and supportive, with no back twinges at all on the 300-mile trip. It also proved that this Caddy is as smooth an operator as you'll find anywhere in the van world. The six gears snick into place nicely, the van is whisper quiet even at motorway speeds and ride and handling are pin sharp, just as we have come to expect from Volkswagen products.
Usually I manage to find the odd moan and gripe about my test vehicles but with the Caddy I have to admit defeat. There's not a single thing I'd change about it and in fact I'd say it's about as perfect as a small van is ever going to be. Some praise indeed.