Our oh-so-practical Citroen Berlingo test van has been giving sterling service at Fleet Towers for five months now and has been admired by all who have driven it.
As usual, of course, there are the odd minor gripes and moans, so we might as well get them out of the way in one go, so we can eulogise a little more about the vehicle's good points, which are many and varied.
One problem flagged up before is that the fold-down passenger seat is a kind of skinny affair (it has to be or it would not fold down flat) and the missus has complained that it's a bit like sitting on a plank of wood. On a couple of long journeys, she has taken up residence on the rear seats.
On the dash, I could have done with an extra USB port so I could plug my Tom Tom sat-nav unit in. The cigar lighter socket is near the floor so it leaves wires trailing all over the dash.
Also I am not keen on the electronic parking brake, which is activated by the flick of a switch on the dash. To old groaners like me, there is something perversely satisfying about hearing the rachet noise an old-fashioned yank-it-up handbrake makes, especially as I remember my driving instructor back in 1970 telling me not to do it!
Also at motorway speeds the van feels as though it could do with an extra gear above the five on offer.
The final gripe is that there are no side windows for the rear seat passengers, although it isn't meanness on behalf of Citroen that omits them. Side windows will almost certainly mean that fleets won't be able to reclaim VAT on this van as those nice tax people will insist that it's in fact a car.
These moans apart, I'm loving every minute behind the wheel of our little bobby-dazzler of a van. In act I'd go so far as to say this vehicle is the most practical LCV I've ever tested since joining Fleet News back in 1990. That's some praise indeed.
---
Take a look at the picture below and you'll probably imagine that I'm on my way to the local tip. But no – these are all the items I deem essential in my everyday life and they follow me from test van to test van.
Here at Fleet News we don't pussyfoot around with our vans and I try to push them to their limits, just as many of our readers' vehicles are pushed every day.
Although I have been a journalist all my life, I also double up as a transporter of household stuff around the country for my extended family, a mechanic when their cars break down, a gardener when their plots become overgrown and a lugger-round of people when they need lifts.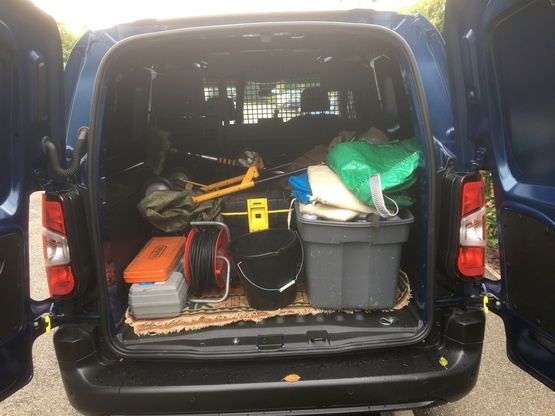 So I make no apologies for my gear here – tool box, carpet (to lie on when looking under cars), trolley jack (the ones you get free with vehicles are next to useless), garden sacks, a set of wheels and a reel of electric cable to name but a few items.
I was worried that with a second row of seats, my van would not be able to hold all my 'essential' gear but in long wheelbase format and with the second row of seats up, there are still nigh on two cubic metres of loadspace in the back and as you can see, it all fits in nicely.
Usually our test vans have a maximum of three seats and that allows me to turn down requests for lifts here and there from the family when I'm busy. And while I like the extra three on offer in this van (there are two in the front), it has meant that I have had to grit my teeth on a few occasions and ferry people about when I really didn't have time.
Of course as stated in a previous issue, the seats fold right down into the floor so on odd occasions, I admit I have done just that and sworn blind that I only have two seats. Naughty me!
Just a note on the maintenance front. This van seems to gobble up AdBlue like there's no tomorrow. I bunged in an £8 plastic container's worth when the van asked for it and blow me if a week later it wasn't asking for more. To be fair, when I mentioned this to the guy in our local garage he said drivers of other van marques had made the same moan to him, so I won't mark Citroen down on this point. But then, dang me, two weeks later it was asking for more again.
---
After 30 years testing commercial vehicles for Fleet News I thought I had seen just about everything there was to see – until our Berlingo turned up at Fleet Towers for a six-month appraisal.
I knew our van had a second row of seats and while I was happy that I could transport more people about than in a normal van, I was slightly concerned as I also sometimes carry fairly large loads of stuff (normally other people's!) about.
I should not have worried. The front passenger seat and the three seats in the second row fold right down into the floor. Then the mesh bulkhead is mounted on to a set of rails and with all the seats folded, it slides forward to be clipped behind the driver's seat. But the cleverness doesn't end there.
There' also a flap in the bulkhead so that lengthy items can be poked through, using up all the space from the back of the van to the front. That little gadget allows loads up to four metres in length. Wow!
I've had vehicles with removable seats before but you end up with piles of them in the garage. No such problem with our perky little van.
The only downside I can see is that the front passenger seat is a kind of skinny affair and doesn't look as comfortable as the driver's seat. I'll report back on that after my first long journey with the missus.
My neighbour, a carpenter who owns a Nissan Primastar, came over to see what I was up to when I first discovered all this and he was stunned by it. His van is due for replacement soon and he told me: "I'm going to get one of these. It's got almost as much space as my van."
I wonder of Citroen would consider giving me an introduction fee on the purchase?!
---
Clad in a rather pleasing deep metallic blue, our Berlingo is quickly making some firm friends among the testers here at Fleet Towers.
An enormous amount of thought has gone into what the average van driver needs and so far I have not found a single item missing. I mean, how many vans have a large heavy duty fold-up plastic carrying bag under each seat? None that I've ever come across before.
In the cab, we get two coffee cup holders (important for coffoholics like me), along with air-conditioning, electric windows and rear parking sensors. On the dash is a large screen that is now de rigueur in vehicles nowadays and it seems to do an extraordinary number of things. I'm still tinkering about with it after a month behind the wheel. I particularly like the way it automatically links up with my iPhone when I plug it in. I yell: "Hey Siri, play Radio Caroline!" (yes it is still going) and seconds later my favourite station is blasting through the van's superb speaker system.
The driver's seat is a dream for old fogeys like me, with loads of lumbar support and adjustment every whichway.
I can't mention all the goodies on offer here but I will say I was expecting to find many of them on the added options list at a price. In fact it's all standard apart from the metallic paint job which weighs in at £350. Top marks there, Citroen!
On the road this van is whisper quiet despite the fact that it only has a mesh bulklhead and the 102bhp on offer rows the vehicle along nicely and is quite up to the job.
Nowadays, we get all sorts of safety devices as standard, such as driver's airbag, ABS brakes, ESP traction control, hill start assist, an alarm with tilt sensor and automatic activation of hazard lights under heavy braking.
All these devices are pretty much standard on vehicles in 2021 and it amazes and saddens me that so many are still involved in accidents. I can only assume that some drivers are lulled into a false sense of security and simply forget how to drive safely.
---
In the 30 years that I've been a van journalist, I've driven just about every commercial vehicle there is to be driven. Many come and go and fade in my memory within weeks, but just a few find a special place in my heart.
The Citroen Berlingo is one of those vans. It was launched back in 1995 and at the time it was the first small van to be built as an LCV from the nuts and bolts upwards. All the others were van versions of cars.
As usual, Fleet News was first in the queue for a test drive and I remember being stunned by its chunky build quality, the smooth running of its diesel powerplant and its sheer practicality. To say this vehicle moved the small van goalposts (are there such things – Ed?) is an understatement – and all the other rival manufacturers found themselves with a lot of catching up to do.
There have been various nips, tucks and relaunches along the way, but the Berlingo has never lost its fleet appeal, so that nowadays you can hardly traverse a street in England without seeing one.
With all this behind me I was mighty pleased to be offered a new Berlingo for a six-month testing period and I'll be reporting back each month on my driving impressions. With the above in mind, it's pretty certain there will be plenty of positive comments along the way.
Our variant is rather unusual in that it's a crew-cab with seating for five and a clever system that allows all the seats to be folded into the floor while the mesh bulkhead slides back and forth on rails.
Our van weighs in at a rather hefty £27,982 OTR, but it seems a bargain price to me as it offers so much practicality (more of which in a future report).
Under the bonnet goes Citroen's tried and trusted 1.5-litre turbodiesel powerplant offering 102bhp and 250Nm of torque and fuel economy is slated as 46.2-55.6mpg by the Worldwide Harmonised Light Vehicle Test Procedure.