The launch of any new Ford Transit is big news for the UK fleet industry, with the iconic model range having been the backbone of the van sector for more than five decades.
However, for Mandy Dean, Ford's commercial vehicle director for Britain and Ireland, the new E-Transit – the manufacturer's first fully-electric van - is "massive".
"Transit has been market leading for 56 years, so we've had to take that winning formula and put it into an electric future," she says. "We've absolutely got to deliver it right."
From our experience behind the wheel and looking at its statistics, attributes and pricing, it looks like Ford absolutely has.
It is the first of five all-electric commercial vehicles Ford will introduce by 2024, with the others the E-Transit Custom and fully-electric versions of the Courier, Tourneo Custom and Tourneo Courier.
The launch also comes at a time when demand for zero emission vehicles is soaring: latest SMMT figures show sales of electric vans are currently 68% up on the same period in 2021, bucking the downwards trends of the new van market overall.
Some manufacturers had already launched electric large panel vans into the sector, but these are at least £11,000 more expensive than the E-Transit's starting price of £45,496 (ex-VAT), as well as having smaller driving ranges.
These figures are only the tip of the iceberg when it comes to the E-Transit's impressive numbers.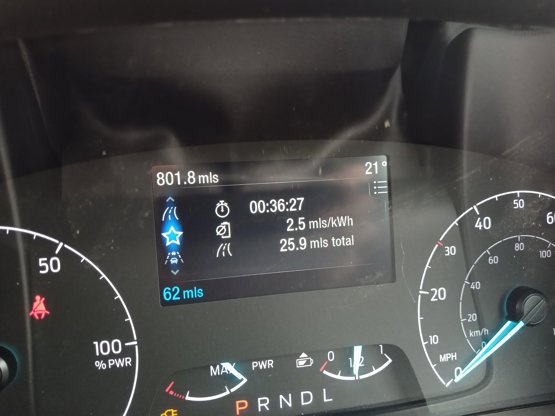 The model features a 68kWh usable battery as standard, providing an official WLTP range of up to 197 miles.
Depending on driving style, we found between 2.2 and 2.6mi/kWh can be achieved, when the van is unladen. This would equate to a real-world range of between 150 and 180 miles.
Rapid charging from a 115kW chargepoint will charge it from 15% capacity to 80% in just over half-an-hour. With an 80% charge the van will have a range of 120-140 miles, although drivers will probably want a 10-mile buffer to find a chargepoint.
Its electric motor provides 430Nm and is available with power outputs of 183PS or 269PS, making it the most powerful large van on sale.
Payload is up to 1,758kg on the panel van model, and the range totals 25 variants of van, double-cab in van and chassis cab body styles with multiple lengths and roof heights, as well as gross vehicle weights from 3.5 to 4.25 tonnes. Load volumes go up to 15.1cu m.
E-Transit also features Ford's ProPower Onboard technology, which delivers up to 2.3kW in the cab and load area to power conversions and equipment.
Away from the numbers, externally, the E-Transit is almost identical to its ICE siblings, but is mainly distinguishable by blue lines on its grille.
Keen eyes will also spot the new independent rear coil spring suspension, which replace the leaf springs of the diesel Transits.
This enhances the already impressive driving experience of the ICE versions, while the powertrain offers the quiet and refined experience association with electric vehicles.
We drove the lower-powered version on the media launch and this had plenty of urge, while it also felt really stable and solid on the road.
The lack of a manual gearbox will no doubt be appreciated by drivers, particularly those who have lots of stop-starts on their route, while the Ford Sync 4 connectivity system will also be appreciated.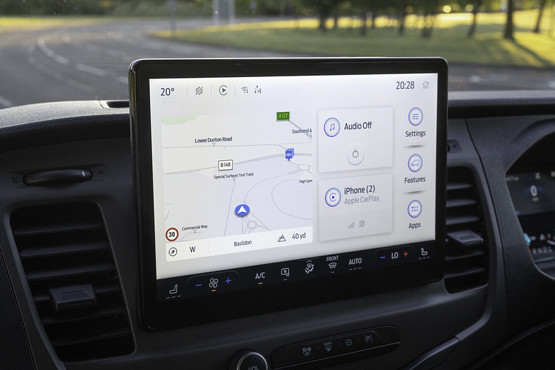 This uses the same 12-inch touchscreen as the Ford Mustang Mach-E and provides infotainment, navigation and a range indicator that takes into account traffic data and weather. It also features Apple CarPlay and Android Auto.
Other comfort technology includes heated seats and a Quickclear heated windscreen.
Build quality in the cabin is good, as is the quality of the plastics used, and it feels like a comfy, practical and relatively upmarket place to be.
The driving position provides excellent visibility, while there is also plenty of storage space.
The E-Transit also features a generous amount of safety equipment: it has received a gold award from Euro NCAP for its suite of driver assistance systems, which includes autonomous emergency braking when approaching vehicles, cyclists and pedestrians, as well as lane-keeping technology, blind spot indicator, traffic sign recognition, a 360-degree camera, reverse brake assist and occupant monitoring systems.
Other technology includes the FordPass Connect modem which links with the integrated suite of Ford Pro solutions (see panel), which is the manufacturer's recently-launched suite of fleet management and efficiency tools.