Average LCV values at BCA rose by 3% in June 2022, the first month-on-month rise recorded this year.
Prices stood at £9,800 in June, up by £283 compared to May, with performance against guide prices down slightly at 95.8% over the month.
Year-on-year, values for June 2022 were down by £133 (1.3%) compared to June 2021.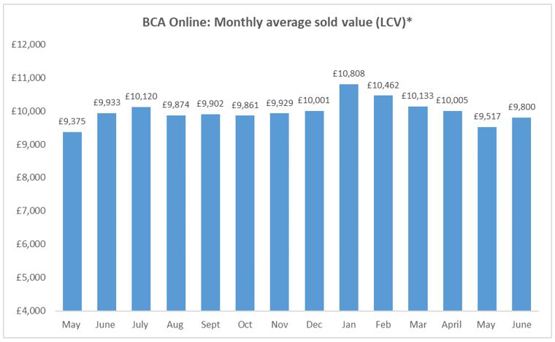 Despite the rise, demand remains volatile, according to BCA, with professional buyers continuing to focus on condition and presentation as critical factors, particularly when a vehicle has a good retail specification. Any imbalance in supply can quickly affect demand and values, notably when volumes of standard specification base models begin to rise.
One area of the marketplace that is enjoying sustained demand is conversions and bodybuilds. Data from BCA Valuations underlines that buyers are paying a premium for Luton bodied conversions with tail lifts and twin rear wheels, which provide the best load/weight carrying capabilities. There is a "good" supply of two- to three-year old examples in the market with single rear wheels which need to be competitive valued to generate buyer interest.
BCA said mess vans are "very much in demand", although only if fully-equipped. Minibuses of any shape or size are also sought after by buyers, with any example in good condition offered by BCA attracting "very competitive" bidding.
Buyers of refrigerated vans are reportedly looking for dual-fridge capability and compartmentalised interiors, with easy access via rear-leaf doors and overnight stand-by.
Stuart Pearson, BCA COO UK, said: "It underlines the somewhat unpredictable nature of the current marketplace that average values should rise in what typically has been one of the quieter months for light commercial vehicle demand.
"The competition for the best presented stock has contributed to the increase in average values this month, however even the best vehicles need to be realistically valued when compared to the premiums that buyers were prepared to pay last year."