The number of electric vans joining fleets has increased by 52.4% June, but still represents only one in 13 new vans sold, new figures from the Society of Motor Manufacturers and Traders (SMMT) suggests.
There were 2,015 new electric vans registered in the month, with 8,100 battery electric vehicles (BEVs) registered in the first six months of 2022 – a 60% increase on the same period last year.
Overall, however, the UK new light commercial vehicle (LCV) market declined for the sixth consecutive month in June, falling by 23% to 26,443 units due to the semiconductor shortage.
Some 144,384 new vans, pickups and 4x4s were registered in the first six months of 2022, down by almost a quarter (24.6%) compared with the same period last year.
The half-year decline is, in part, exacerbated by comparison with 2021, which saw the third best start to a year as pent-up demand for online delivery vehicles and a bounce-back in the construction sector boosted registrations.
While demand has been robust for most of this year, components shortages have impacted deliveries and lead times, with the market remaining 26.5% below pre-pandemic levels
Mike Hawes, SMMT chief executive, said: "The impact of the global shortage of semiconductors is severe, constraining supplies and extending lead times for commercial vehicles.
"While electric vehicle registrations are growing in response to an ever-wider choice of plug-in models, a successful transition means accelerating uptake at pace, and this task could not come at a more difficult time.
"With inflation and energy costs hitting the pockets of UK van buyers, as well as the industry, operators need to be assured that charging infrastructure can meet their needs and that fiscal and grant incentives are in place for the long term."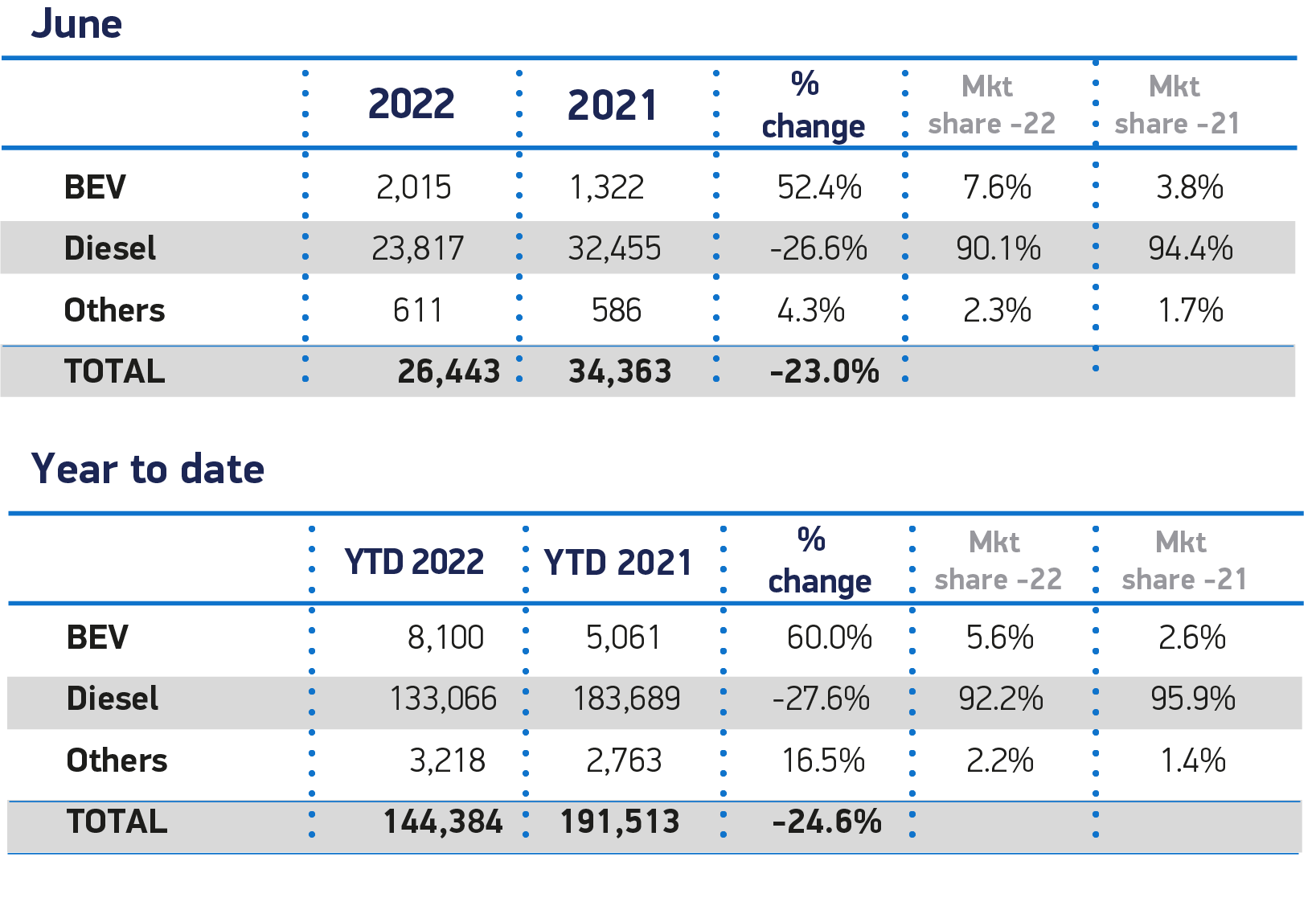 During June, there were decreases in registrations across all segments. Some 20,449 vans weighing above 2.5 tonnes up to 3.5 tonnes joined UK roads in the month, a decline of 16.3%, while the number of lighter vans weighing less than or equal to 2.0 tonnes fell by 30.7%, and those weighing more than 2.0 tonnes to 2.5 tonnes dropped by 43.7%.
"It is disappointing to see June registration figures for light commercials held back by supply issues and the Russian invasion of Ukraine", said Sue Robinson, chief executive of the National Franchised Dealers Association (NFDA).
"There is no shortage of demand but due to continual component shortages, particularly with semiconductors many customers are being given delayed delivery dates of up to 12 months. Overall, this year at the halfway mark, the LCV market is down 24.6%."
She concluded, "Overall, van dealers are still optimistic that supply chains will improve and are assured by the level of consumer demand for both used and new light commercials."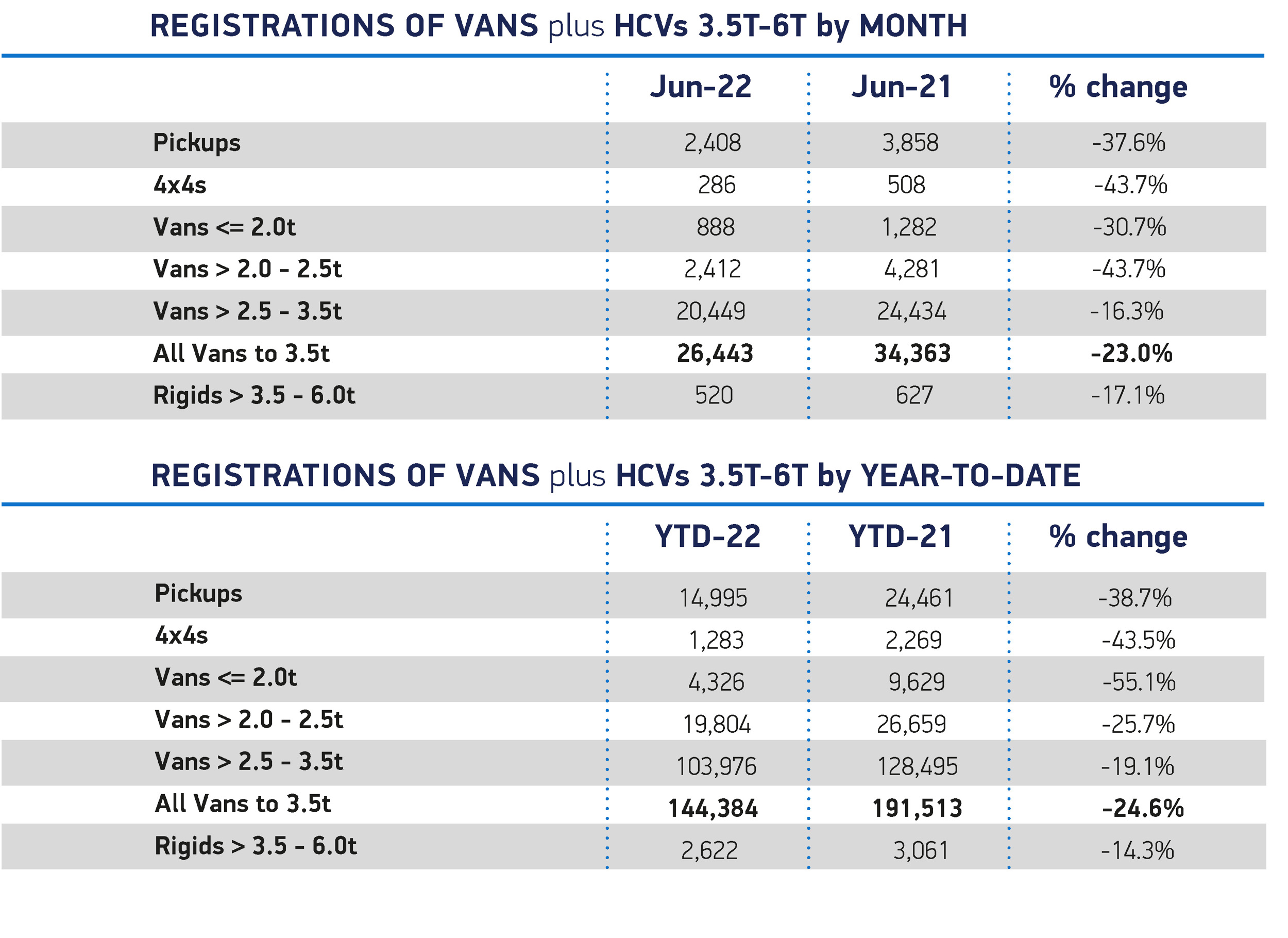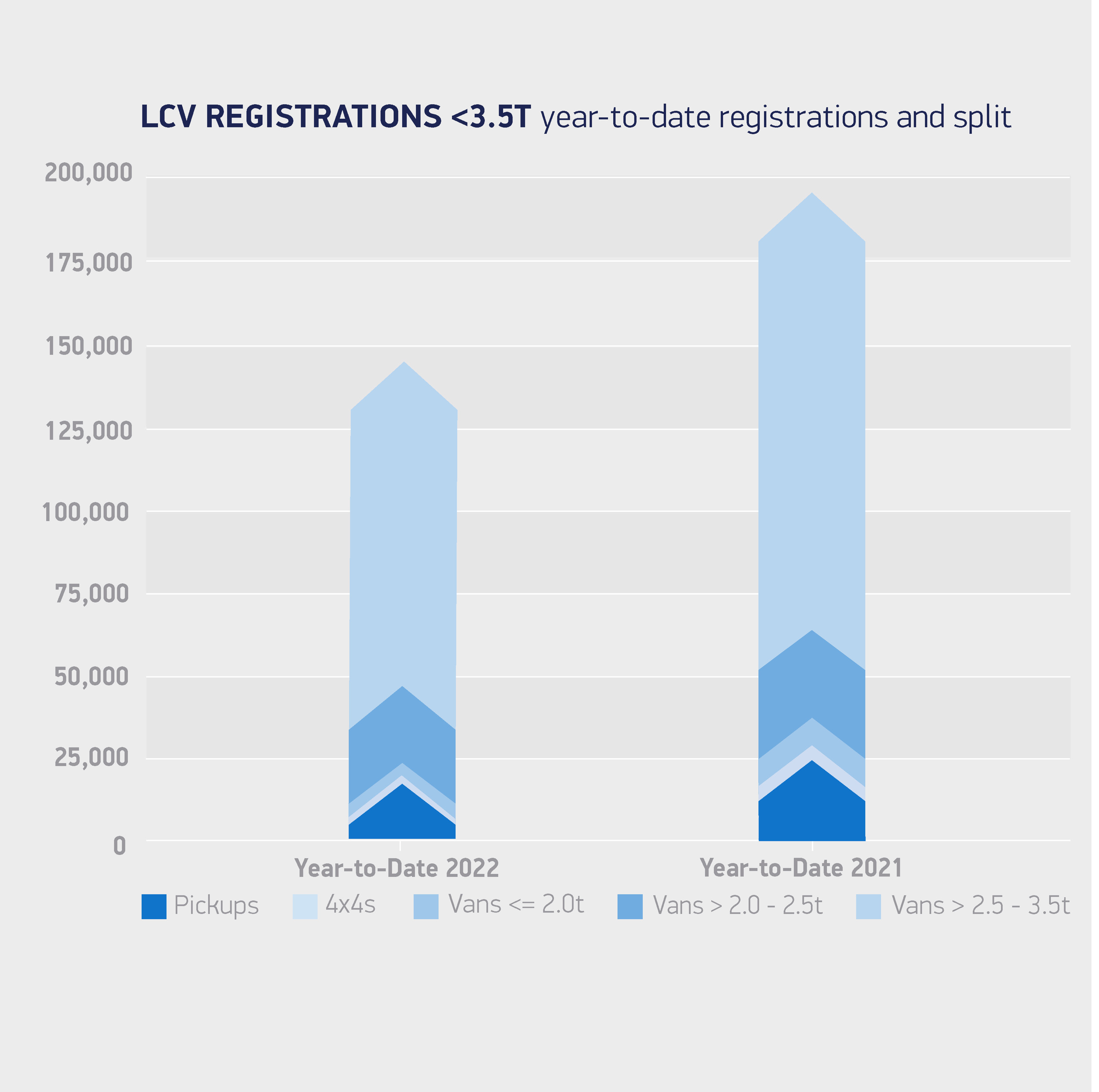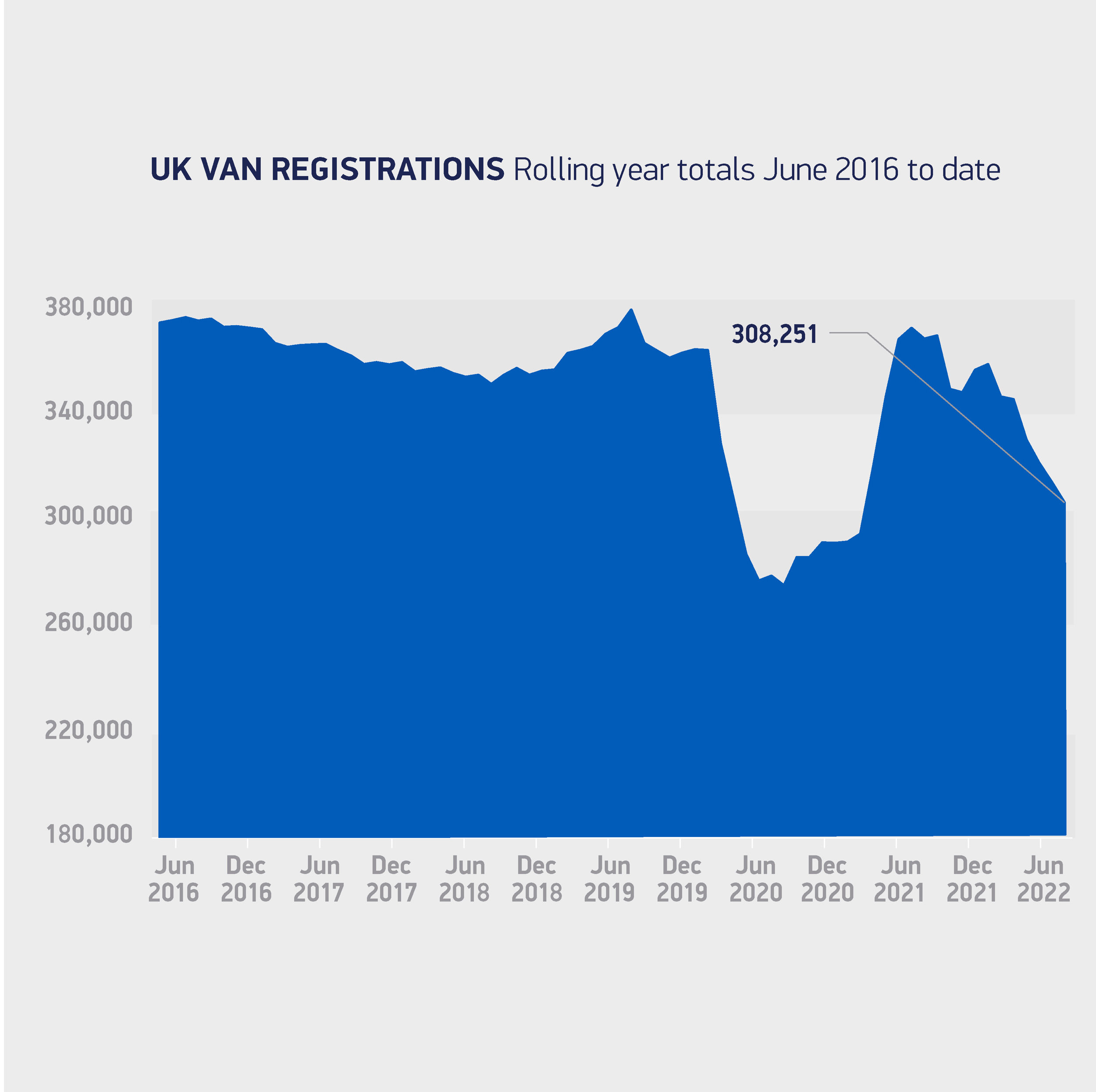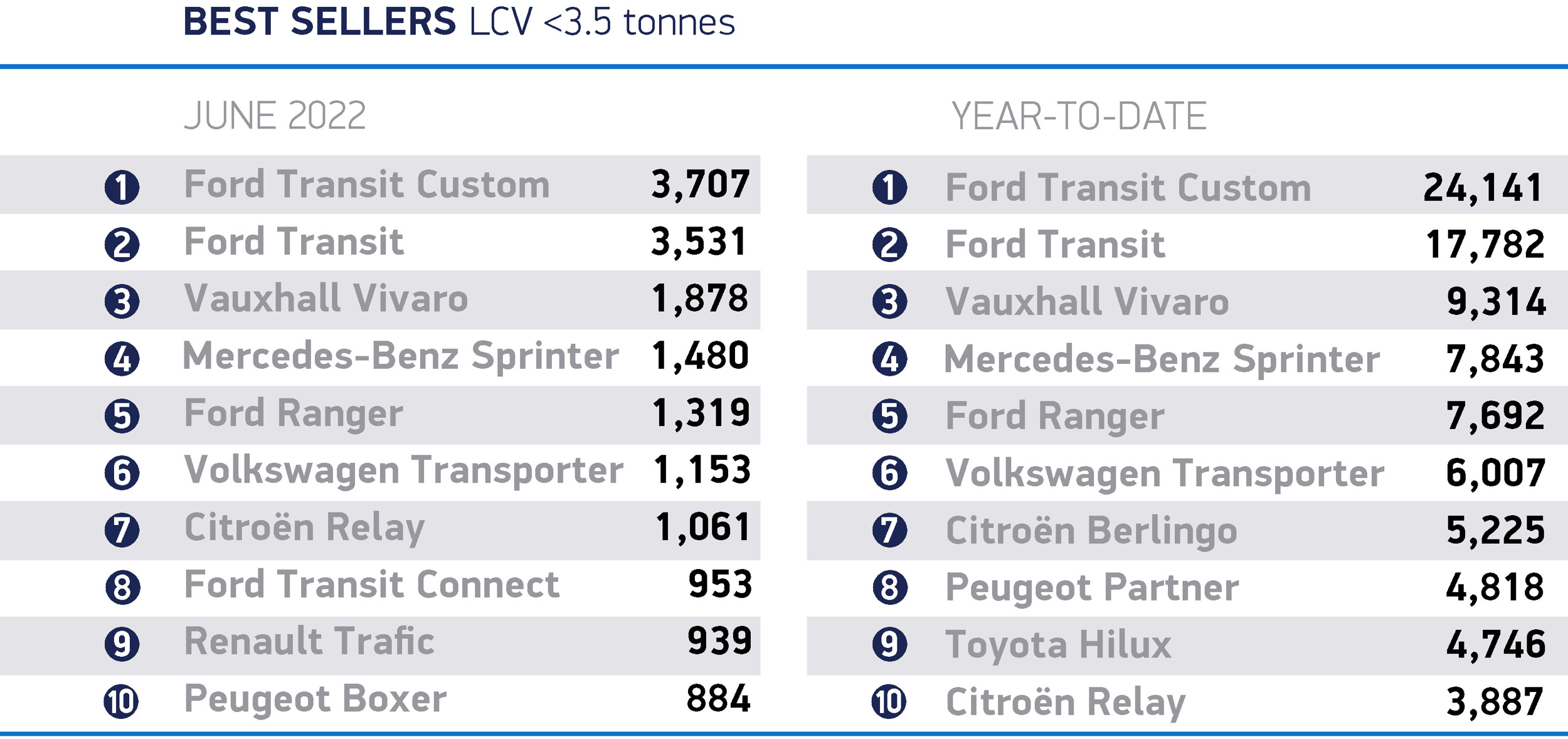 > Interested in comparing electric vehicle data? Check out our EV tool.
> Interested in ensuring the efficient use of EVs. Check out our dedicated editorial sections: Insight & policy | EV news | Charging & infrastructure | Costs & incentives | Benefit-in-kind | EV case studies | EV road tests