New light commercial vehicle (LCV) registrations fell by almost a quarter (23.6%) in March to 40,613 units, according to new figures from the Society of Motor Manufacturers and Traders (SMMT).
March is conventionally a bumper period due to the introduction of the new bi-annual number plate, with more LCVs registered last month than January and February combined.
However, the SMMT says that supply and delivery issues continue to hamper the sector, including the global shortage of semiconductors, with the March market 38.6% down on pre-pandemic 2019.
Newly registered large vans, which represent more than two thirds of the LCV market, totalled 29,230 units, an 18.9% fall on March last year, while medium-sized vehicles weighing greater than 2.0 tonnes to 2.5 tonnes declined by 27.6%.
Small vans, meanwhile, decreased by 70.8% and pick-ups by almost half (48.4%). Recent high year-on-year demand for 4x4s also slowed, decreasing by a third (33.3%).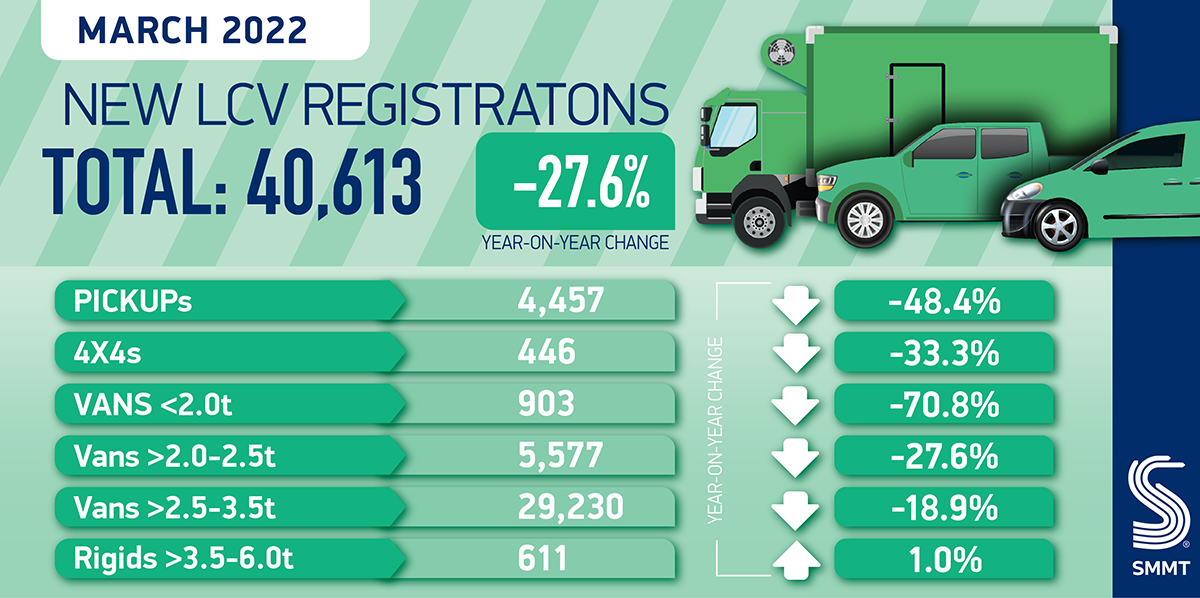 Registrations of electric vans rose by 17.7% year-on-year to 1,909 units.
Compared with Q1 last year, electric van uptake increased by 68.9% to a market share of 5.8%, more than double a year ago but still some distance behind fully electric passenger cars.
The SMMT says that further investment is needed in the right types of charge point infrastructure in all regions of the UK so that more fleet and self-employed van operators can be confident to make the switch.
Mike Hawes, SMMT chief executive, said: "The light commercial vehicle market has made a slower start to 2022 compared with the first quarter of last year, reflecting the cyclical nature of fleet operator investment, amid global supply shortages and increasing economic pressures.
"Targeted support from Government is needed to encourage fleet renewal and a full zero emission van market."
Hawes welcomed the recent expansion of the plug-in van grant, saying it would be a positive for the sector. However, he added: "There needs to be a greater roll-out of suitable charge points to ensure fleet and self-employed van operators in all regions can make the transition."
Sue Robinson, chief executive of the National Franchised Dealers Association (NFDA), says that, although this month's decline is significant and was anticipated due to supply constraints, it was important to note that pent-up demand boosted the market last year.
She added: "External factors will likely impact the market in the short and medium term, but dealers are hopeful the situation will improve going forward".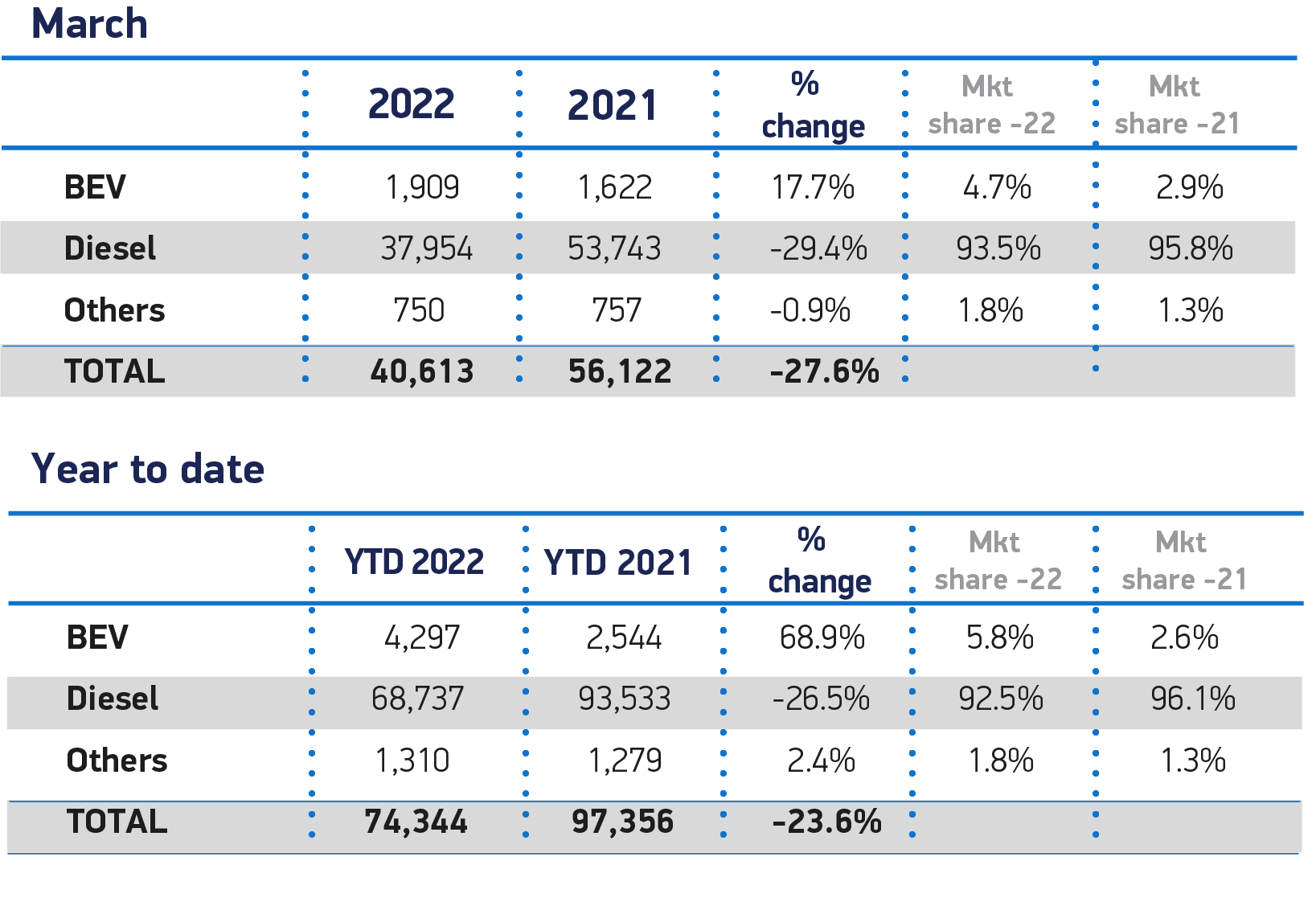 The fully electric Vivaro-e was the UK's best-selling e-LCV in March with more than 500 models registered and remains the overall highest-selling e-LCV for the year with 836 sold year-to-date.
Year-on-year, Vauxhall has seen its UK e-LCV market share grow from 19% to 22.73%.
Meanwhile, Vauxhall's overall LCV market has also grown from 9.81% to 10.44% over the past 12 months, with more than 7,800 vans sold so far in 2022.
Paul Willcox, managing director of Vauxhall, said: "The electric light commercial vehicle segment is a small, but rapidly growing and vitally important sector for the industry.
"As more businesses look to reduce their running costs and emissions, e-LCV sales will only keep growing in the future. It's fantastic to see the Vivaro-e remain the go-to choice for many of the fleets and businesses choosing to go electric."
Peugeot increased its van only market share from 8.7% in Q1 2021 to 9.9% in Q1 2022 and remains the market leader in Q1 2022 for overall electric van sales, as the only brand to break 1,000 sales so far this year.
Julie David, managing director of Peugeot UK, said: "We're proud to be one of the few in the market who can offer such versatility of powertrains to our LCV customers, and the results we have seen so far in 2022 are extremely encouraging. We look forward to continuing to support our business customers with transitioning to electric."