Renault has revealed the new Trafic, the latest and most advanced van from Renault PRO+ with car-like levels of equipment.
Renault says it has an entirely refreshed interior, a wider range of new Euro 6D-Full compliant engines, enhanced infotainment systems and the very latest Advanced Driver Assistance Systems (ADAS).
There are long and short wheelbase variants, plus a choice of roof heights, with the availability of four trim levels – Business, Business+, Sport and Sport+.
A long wheelbase Crew van version is also available as is a six-speed EDC dual-clutch automatic transmission with certain engines.
Renault says that fleets have a choice of 44 versions, and the capability to customise their New Trafic as desired thanks to a diverse range of options, accessories, tailor-made modifications and a wide selection of conversion options. It is available to order now priced from £25,700, plus VAT.
New Trafic has new front-end design, which features full LED lighting with C-shaped running lights and a redesigned bumper that complements the upright grille, finished with chrome detailing.
The full LED headlights offer better light distribution and a 15 metre greater range, enhancing visibility by 20%, while manoeuvres are made easier thanks to 30% larger electric folding door mirrors, says the manufacturer.
The LED fog lights have chrome edging to complement that of the new grille, while a cornering function aids visibility while manoeuvring at night.
New 17-inch 'Avens' alloy wheels feature on Sport models – diamond-cut on Sport+ models – with new 16-inch 'Siras' wheel covers on Business and Business+ variants.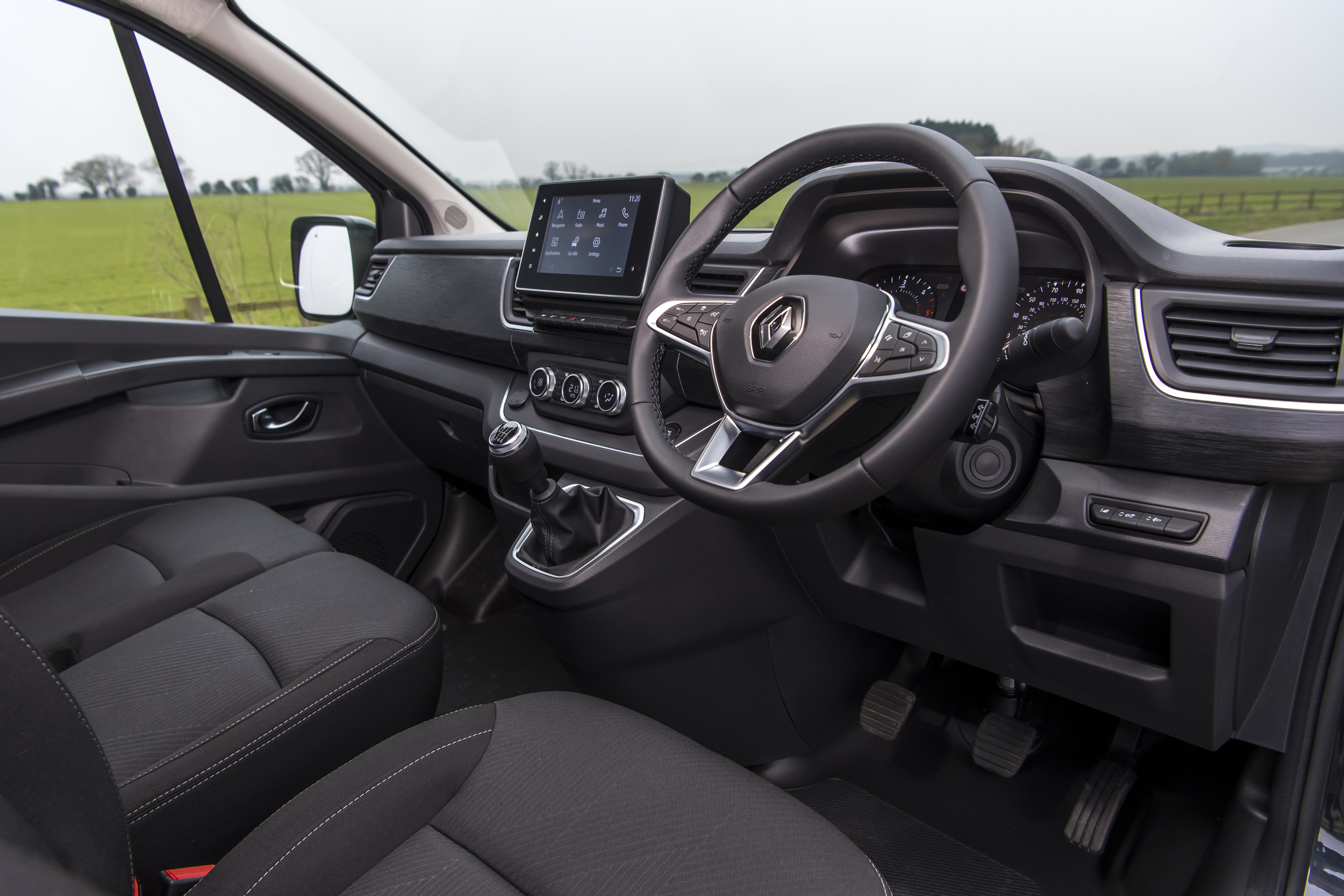 Influenced by Renault's range of passenger cars, the interior is home to a new instrument panel housing a 4.2-inch TFT colour display and clear dials on Sport and Sport+ variants (3.5-inch monochrome display on Business and Business+ specification), while, depending on the version, a new 8-inch EASY LINK display sits in the driver's eye line for greater ease of use.
For those who need the interior to double as a workspace, there is the Mobile Office feature that comes as standard on Business+ and upwards.
Together with the enhanced storage space, this includes a fold down middle passenger seat, with detachable A4 clipboard, plus laptop and smartphone cradles.
The rear load area, with a load length of 4.15 metres using the load-through bulkhead underneath the passenger seat, offers a total capacity of up to 8.9 cubic metres and a payload of as much as 1,166kg.
The Crew van, in Business or Business+ specification, introduces a second row of seats with a bench seat that can accommodate three passengers.
The front passenger bench seat gains underseat storage and the rear interior side panels stretch up to the windows.
Upwards of Sport trim, the second row consists of three individual passenger seats, all of which have adjustable headrests, two armrests and underseat storage. The outer two seats also have ISOFIX fittings.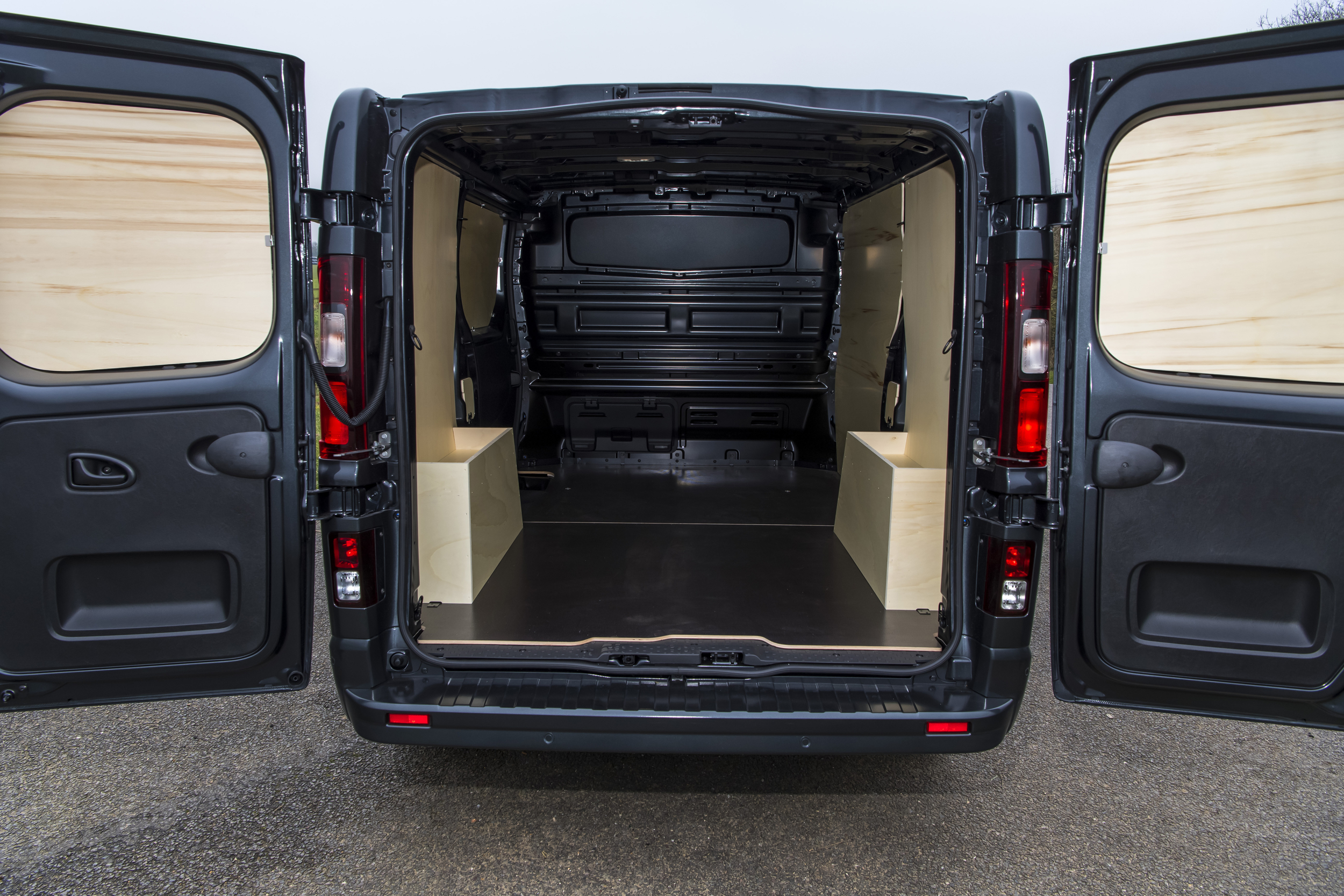 POWERTRAINS AND DRIVING
There are four different versions of the 2.0-litre Blue dCi diesel engine available, with customers able to choose from dCi 110, dCi 130, dCi 150 and dCi 170 variants.
All versions are front-wheel drive and feature the latest fuel-saving Stop & Start functionality, contributing to the New Trafic's compliance with the most stringent Euro 6D-Full emissions regulations.
New to the range is the dCi 110 engine, which produces 110hp and 300Nm of torque, returning up to 40.9mpg (WLTP) and emitting as little as 182g/km of CO2. This engine is paired to a six-speed manual gearbox and is available solely in Business trim.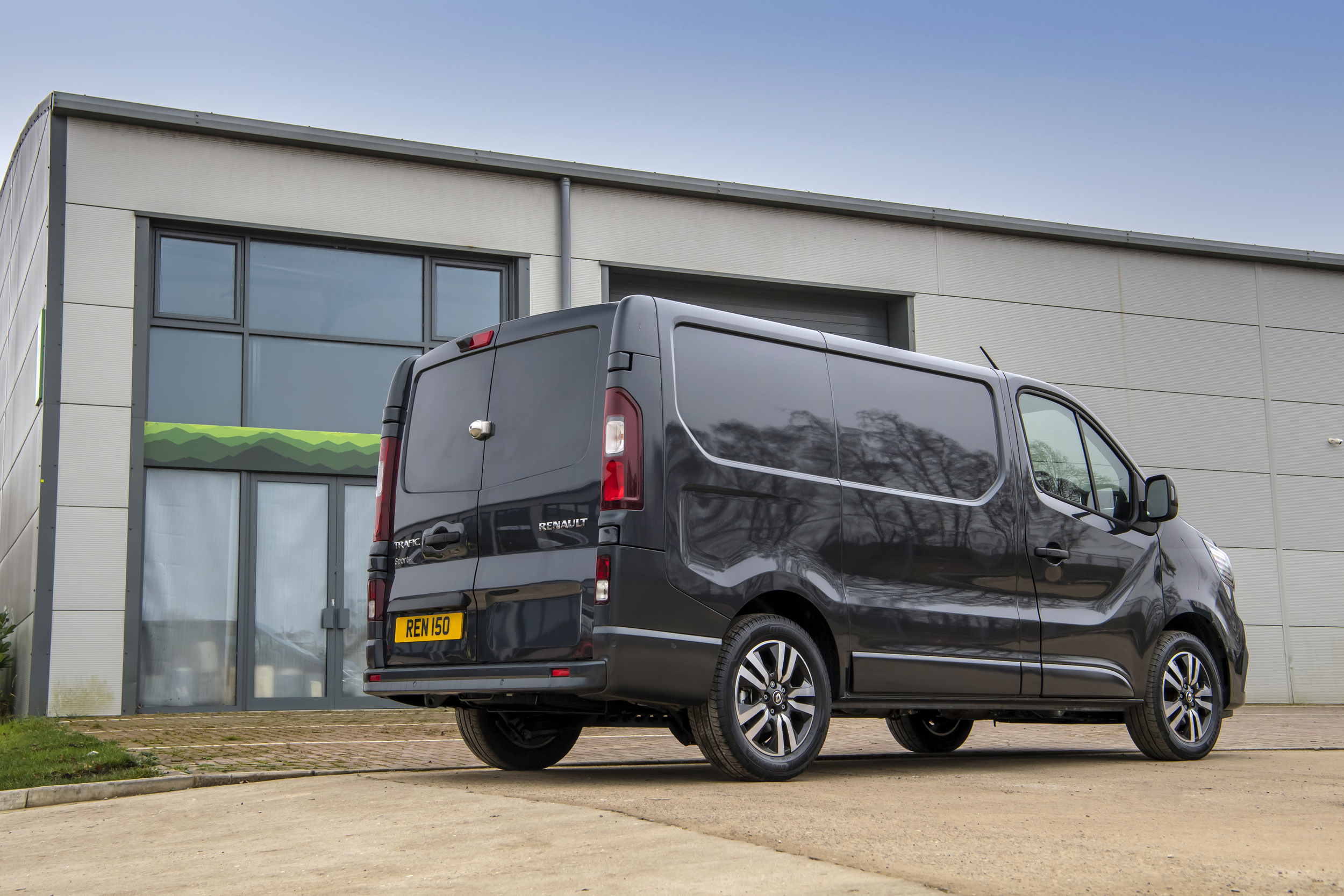 Available in Business, Business+ and Sport trim levels, the dCi 130 is now 10hp more powerful than its equivalent engine in the previous Trafic. Paired to a six-speed manual transmission, it has peak power of 130hp yet can return up to 40.9mpg (WLTP) with CO2 emissions of just 182g/km.
The dCi 150 engine is available with the six-speed manual or six-speed EDC dual-clutch automatic transmissions. The manual variant also returns up to 40.9mpg (WLTP) and 182g/km of CO2 emissions, while the smooth-shifting EDC dual-clutch automatic returns 39.8mpg and 185g/km of CO2.
The most powerful dCi 170 engine is reserved for Sport and Sport+ versions, offering the option of both manual and automatic transmission. Mated to the six-speed manual, the 170hp engine is capable of 40.4mpg (WLTP) with CO2 emissions of only 184g/km.
When paired with the seamless automatic gearbox, it returns up to 39.8mpg and emits as little as 186g/km CO2. Performance is strong with a 115mph top speed and 0-62mph covered in only 10.6 seconds.
TECHNOLOGY
The New Trafic features the latest infotainment technology as well as the most up-to-date Advanced Driver Assistance Systems (ADAS) available across the Renault PRO+ line-up.
A significant new addition to the cabin is the new 8.0-inch EASY LINK display located on the dashboard, offering the latest in connectivity and usability to New Trafic Business+ customers.
The new touchscreen system supports full smartphone integration via Apple CarPlay and Android Auto, plus the full selection of DAB, Bluetooth and USB connectivity options that are available on Business models.
In the Sport and Sport+, the EASY LINK system features satellite navigation with connected navigation services for three years, and includes Google search for places of interest, live traffic information and weather forecasts.
For optimum convenience, the Sport+ also offers keyless entry, while an optional wireless smartphone charger is available for the first time.
The latest generation of driver aids and safety systems are also available, including adaptive cruise control that safely maintains the distance to the car in front and an Active Emergency Braking System (AEBS).
Further safety features include Blind Spot Monitoring and Lane Departure Warning with Lane Keep Assist and Traffic Sign Recognition.
There is also an innovative new passenger airbag that has been optimised to protect two passengers occupying the two front passenger seats alongside the driver, while a parking assist system aids manoeuvres together with a reversing camera.