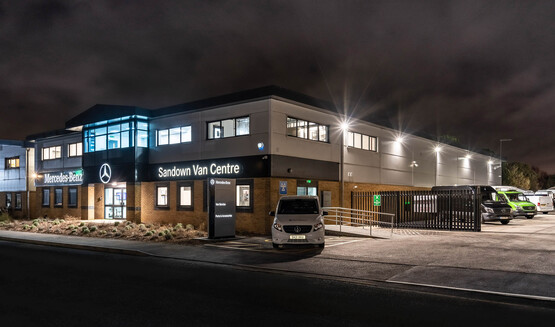 Sandown Van Centre has opened in Poole, providing dedicated maintenance and repair services for Mercedes-Benz vans.
The new facility is located just off the main A3049 on Vantage Way, Mannings Heath, Poole. It represents a first venture into the light commercial vehicle arena by the Sandown Group, which operates nine Mercedes-Benz Passenger car dealerships.
Mercedes-Benz Vans' decision to appoint Sandown Group as its latest Authorised Repairer follows the closure by another franchisee of its own premises in Poole. The Sandown Van Centre is now serving an area that extends northwards to Amesbury, and as far as Yeovil in the west and Southampton in the east.
Developed on a site used previously by a luxury yacht business, the 12,000 sq ft building features a workshop with six ramps, an alignment bay for specialist work on suspension geometry and an MoT lane.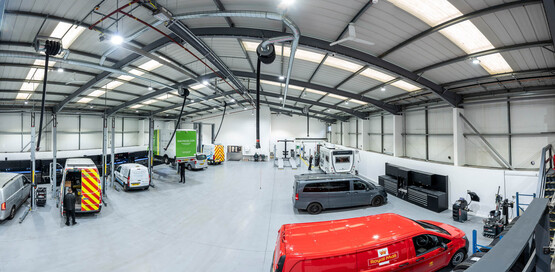 As a Mercedes-Benz Electric Van (EV) Centre, the Poole facility is equipped with four AC charging stations, while pre-wiring has been installed for another three, one of which will be a rapid DC point.
A waiting area with wi-fi access, LED screens and 'bean-to-cup' coffee is provided, while the Sandown team also offers Drop & Go and Collection & Delivery services.
Gavin McAllister, Sandown Group managing director, said: "Our new van centre demonstrates Sandown's sincere commitment to growth and investment in the powerful Mercedes-Benz brands. This is an exciting opportunity, and we are determined to exceed the expectations of the customers we are privileged to be serving."
The workshop is open from 8am until 6.30pm on weekdays, and until 1pm Saturdays. However, the company plans at the earliest opportunity to extend hours of operation into the evenings by introducing a split-shift system with up to 16 technicians.
Derek Clelland, head of network operations at Mercedes-Benz Vans, added: "We're delighted to welcome Sandown as our newest franchise partner. The Poole Van Centre has restored brand representation to an important area, and aligns perfectly with our Future Network Strategy, under which the Mercedes-Benz Vans business is adapting to meet the demands of an evolving market.
"Sandown's investment in this outstanding facility underlines its long-term commitment to providing Mercedes-Benz van customers with the timely, efficient aftercare they are entitled to expect."