Nissan's Townstar compact van range, which will replace the NV250 and e-NV200 in the manufacturer's line-up, will be priced from £19,475 for petrol models and £29,945 for fully-electric versions.
The new model, which shares a platform with the new Renault Kangoo and Mercedes-Benz Citan, features up to 4.3 cubic metres of cargo space, the new Townstar can transport two Euro pallets and up to 800Kg of cargo, while the powertrains allow the vehicle to offer a 1,500Kg towing capacity.
Large sliding doors on the side facilitate unloading the van and the rear doors open up to 180-degrees.
Petrol-powered Townstars utilise a 1.3-litre turbocharged petrol engine with 130PS and 240Nm, while the electric model has an output of 122PS and uses a 45kWh battery to provide a range of up to 183 miles.
The all-new Townstar introduces more than 20 technology features to Nissan's compact LCV offering, including Side Wind Assist and Trailer Sway Assist.
Intelligent Emergency Braking featuring Pedestrian and Cyclist Detection and Junction Assist, as well as Hands-Free Parking and Intelligent Cruise Control gives the newcomer an advantage over some rivals.
Nissan is integrating the Around View Monitor (AVM) for the first time in the compact van segment, using a suite of cameras to display a 360-degree overview of the area around the vehicle.
Fully electric versions are also equipped with Nissan's ProPILOT advanced driver assistance system.
The Townstar line-up comprises four trim levels: Visia, Acenta, Tekna and Tekna+.
Electric versions of the all-new Townstar are priced from £29,945 and will come with an 11kW (Visia grade) or 22kW AC (Acenta grade on) on-board charging system.
A DC rapid charging connector will be standard from Acenta grade, and this will enable te recharge the battery from 0% to 80% in a little over 40 minutes.
Prices for all-electric short-wheelbase examples range upwards to £34,845 for a Tekna+ model. Long-wheelbase all-electric Townstar varies in price from £31,245 (Visia) to £35,845 (Tekna+).
On petrol versions, the aforementioned £19,475 price tag applies to a SWB Visia trim-level vehicle, powered by Nissan's 1.3-litre TCe petrol engine and with a six-speed manual transmission.
The most expensive short-wheelbase petrol-powered Townstar, in top-of-the-range Tekna+ specification, comes in at just £23,125.
Turning to long-wheelbase petrol options, prices range from £20,775 (Visia) to £24,425 (Tekna+).
Allan Newman, LCV product manager at Nissan GB, said: "We're delighted to be providing more information about all-new Townstar as its arrival in the UK approaches.
"Offering two efficient powertrain solutions, practical design and unique Nissan technologies, it is comprehensively equipped to meet customers' ever-changing needs.
"With tougher emissions standards, urban access restrictions, and ever-increasing demand for last-mile delivery, businesses large and small need to find effective and sustainable solutions to remain competitive and optimise their operations.
"We're confident Townstar will meet their every need."
The official start of sales will be October 1 for the petrol version and December 1 for electric models. Pre-orders open on August 22.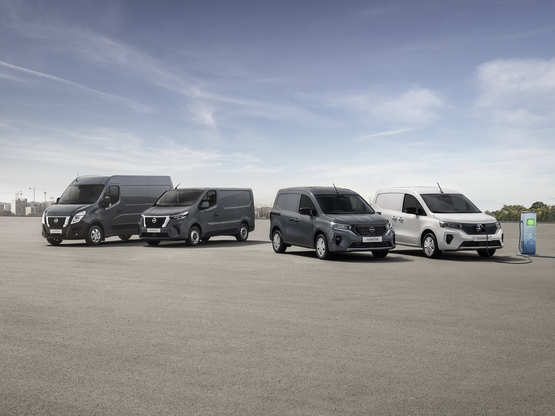 Alongside the introduction of the Townstar, Nissan has also revised the naming structure for the rest of its LCV range. The NV400 is updated to Interstar, as Nissan reiterates its presence in the large van segment. The NV300, with a sharper look and feel, will be renamed as Primastar.
"By introducing the all-star LCV line-up, Nissan will continue to support business owners, today and for years to come. With versatile conversion options the refreshed offering provides a solution to many business challenges.
"From the large tailor-made Interstar van, to the versatile and convenient mid-size Primastar and compact, innovative all-new Townstar, we're listening to our customers and remain committed to addressing their evolving needs," said Emmanuelle Serazin, LCV & corporate sales director at Nissan Europe.
The updated Interstar will feature seven power outputs, from the newly introduced 110PS up to 180PS, all based on the existing 2.3-litre engine. New Advanced Driving Assistance Systems (ADAS) will be introduced, such as Blind Spot Warning and Automatic High/Low headlights beam. A variety of versions will be available, as Van, Chassis Cabs, single and double cabin, and Platform Cab, along with factory conversions such as Crew Van, Dropside Cab and Tipper.
The updated Primastar features a new interlock grille, LED headlamps and optional 17-inch alloy wheels. It also benefits from Blind Spot Warning, Lane Departure Warning, Traffic Sign Recognition, Adaptive Cruise Control and Intelligent Emergency Braking.
Each model within the refreshed "all-star" line-up will include a pan-European five-year warranty.