Montgomery Transport Group has placed an order for 100 Mercedes-Benz Actros with Mercedes-Benz Dealer Intercounty Truck and Van.
Both businesses are part of Newtownabbey-based Ballyvesey Holdings, which is investing in the Actros.
Most vehicles are going to Montgomery Transport, which provides services to customers working across the FMCG, retail and wholesale, manufacturing, and construction sectors.
Its new Actros 2545 tractor units employ 12.8-litre in-line six-cylinder engines that produce 330kW (450 horsepower) and have been specified with either StreamSpace or BigSpace cabs.
Five of the Streamspace models are being assigned to Montgomery Distribution, as well the rigid vehicles ordered. The first of these 13 curtainsiders is scheduled to enter service next month (December).
All vehicles are 18-tonne 1824 models with 175kW (238 horsepower) 7.7-litre straight-sixes, ClassicSpace S-cabs, and PPS Commercials bodies with Dhollandia tail-lifts.
Intercounty Truck and Van is a sister company to the two businesses introducing the new Actros to their respective fleets.
Ian Dickinson, managing director at Montgomery Transport Group, said: "Intercounty Truck and Van has had to work hard and prove it is worthy of our business.
"Its success in doing so reflects the quality of the dealer's people, as well as the quality of the Actros as a product."
Montgomery Transport's new Mercedes-Benz vehicles are replacing trucks from rival marques.
Its first from the latest Actros model generation, are equipped with technology such as MirrorCam, the camera-based replacement for conventional mirrors; the Multimedia Cockpit, twin screens; and the Active Brake Assist 5 emergency braking system, with improved pedestrian recognition capability.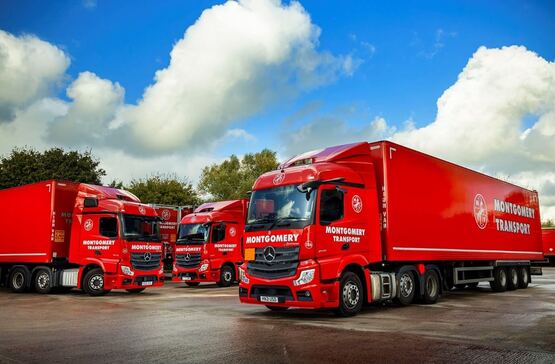 Once the last of the new trucks has entered service, all but 10 of Montgomery Transport's 119 tractor units will wear three-pointed stars.
Montgomery Transport undertook trials at various sites of vehicles by all three of the truck-makers with which its parent company has a direct association, as well as a fourth from outside the group.
Dickinson said: "The new Actros did very well and the excellent fuel economy we recorded during our evaluation exercise has been reflected in the returns from the first 50 units that we've put into operation.
"They're consuming 14% less diesel than our previous fleet average."
Intercounty Truck and Van said the performance of the dealer in running the vehicle maintenance unit at its primary English depot in Preston, was equally important to Montgomery Transport.
The Intercounty team is led by head of fleet workshops Rob Powell, who is supported by depot manager David Birch and workshop controller, Ann Marley.
"We're very pleased with the way the VMU is running," said Dickinson.
"Since the dealer took on responsibility for our workshop, we've seen a definite improvement in vehicle uptime, with fewer repetitive issues and more 'first time fixes'.
"Rob runs a very efficient operation. He and his team have been maintaining vehicles by all three of the manufacturers represented on our fleet, and are proactive and responsive, agile, and flexible.
"The relationship is still relatively new but there is a definite feeling within our business that we are a valued customer, and that if we ask for something to be done then it will be done, and quickly too.
"The Montgomery Transport Group has evolved significantly over the last couple of years, and we continue to make progress against the current, challenging backdrop.
"As with every other haulage company we'd like more drivers and I'm confident that our latest state-of-the-art Mercedes-Benz vehicles will help us not only to attract new recruits, but also to retain those highly valued colleagues who already contribute so much."