Motus Truck and Van has opened a new aftersales centre in Essex alongside a stretch of the A12 trunk road that runs between Chelmsford and Colchester.
The location in Witham is the primary route by which vehicles working in and out of the docks at Felixstowe and Harwich, reach London and the M25.
The new centre is now open round-the-clock, from 6am on Mondays until 10pm on Fridays, and on Saturday mornings.
Crucially, says Motus, the three-acre site offers ample space for drivers to manoeuvre and park their vehicles.
Speaking at last week's open day event, Motus Truck and Van managing director, Lee Seward, said: "This is an important area in which Mercedes-Benz has not previously been represented.
"It sits between our dealerships in East Anglia and at West Thurrock and is going to play a big part in our growth strategy.
"The very substantial development here and those underway at other branches, reflect our determination to provide customers with an experience and a level of service that matches the reputations of the brands and the quality of the products we represent."
The reception area includes rest and meeting facilities, while the 700sq m parts department carries broader and deeper stocks of Mercedes-Benz genuine parts than has previously been possible.
The heart of the 2,500sq m building, though, is its fully equipped workshop. This has nine full-length truck and trailer bays – three of which have 22-metre pits – with another eight set aside for van maintenance and repairs.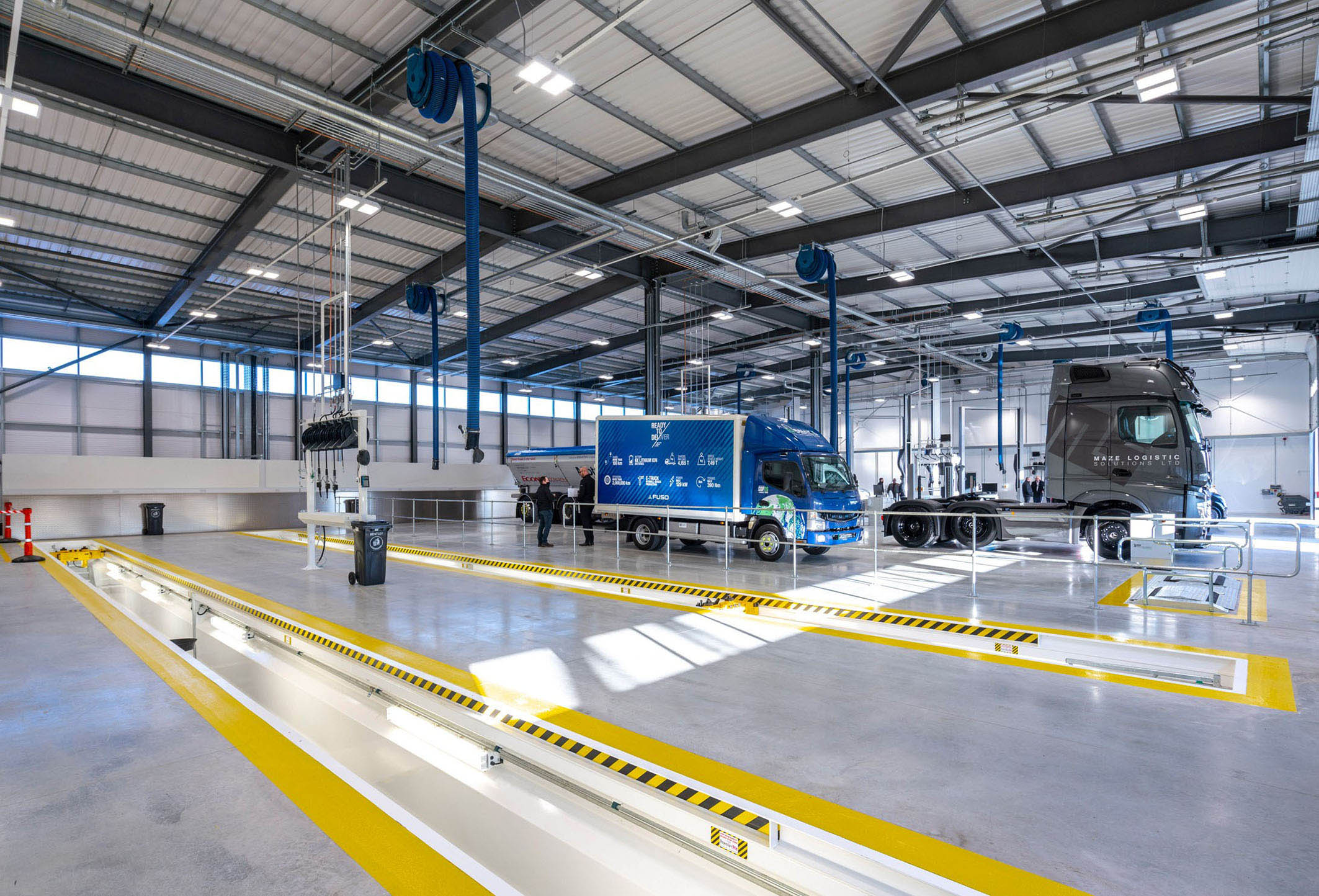 There is an Authorised Testing Facility in which inspectors from the Driver and Vehicle Standards Agency (DVSA) will carry out truck MOT tests, while the dealer's own van technicians will MOT vehicles in the Class 4 and 7 categories at times of the day or night that are most convenient to customers.
Among those touring the new aftersales centre was Steve Winter, head of fleet at Centrica, which has just ordered 165 Sprinter vans from Motus Truck & Van, for use by British Gas engineers responsible for installing central heating systems, heat pumps and solar panels.
"It's a tremendous facility, and very reassuring," he said. "This will be our first experience of operating Mercedes-Benz vans and having committed so heavily to the product, seeing a development like this gives me a lot of confidence that we can look forward to receiving the servicing and parts support we need."
Four fully-equipped Sprinter vans based at Motus Truck and Van, Witham, are allocated to technicians who provide emergency roadside breakdown assistance, 24 hours a day, 365 days a year.
Meanwhile, as the company's new trade hub, the Witham parts team also makes urgent and other deliveries to own account and independent maintenance facilities, garages, mechanics and others throughout Essex, Suffolk, and parts of Hertfordshire.
Mercedes-Benz Trucks head of network development, Mark Williams, said: "It's great to see Motus Truck and Van opening this exceptional facility, which underscores its commitment to operators and represents another big step forward for our ever-improving network.
"Mercedes-Benz Trucks' customer first strategy is focused on ensuring that points of representation are in the right locations and easily accessed. Witham ticks both boxes admirably."
Derek Clelland, head of network operations at Mercedes-Benz Vans, added: "Motus Truck and Van is a key partner for our brand.
"This exciting development aligns perfectly with our Future Network Strategy, under which the Mercedes-Benz Vans business is adapting to meet the demands of an evolving market.
"I have every confidence that those using the new centre at Witham can look forward to an experience that meets the highest standards of customer care."
Motus Truck and Van represents the Mercedes-Benz Trucks and Mercedes-Benz Vans brands from a network of nine branches in Norfolk, Suffolk, Essex and Hertfordshire.
Like other members of the manufacturer's franchised network, it also sells and supports the Fuso Canter light truck range.