Electrifying a fleet without negatively impacting business operations is a challenge all organisations are facing, particularly those running vans.
For CitySprint, this means maintaining its service commitment of offering same-day delivery to 88% of the UK, as well as thriving in urban areas with vastly different operating environ­ments compared with more rural regions.
Mark Bridges (pictured), London regional manager at CitySprint, says:
"We have always acknowledged that, due to the nature of our work, we – and the logistics industry as a whole – have an important role to play in lowering emissions.
"It's because of this we have set a target to become a carbon-neutral company by 2023 and have committed to having a fleet of 200-plus green vehicles across the major cities in which we operate by the end of that year as well."
Currently the organisation, which provides UK customers with a range of delivery solutions, including same-day, UK overnight and inter­national delivery, as well as specialist services for sectors such as retail and healthcare, has an overall fleet of around 3,500 vehicles.
Of these, 183 are "eco friendly", says Bridges, and are either electric or hybrid vans, push bikes, electrically-assisted cargo bikes or electric motorbikes.
"Over the past few years, the appetite for eco-friendly vehicles has risen significantly," he adds.
"However, vehicle supply is a significant constraint for us at the moment, both due to shortages of parts, but also because of the huge demand for the vehicles themselves by businesses and individuals alike."
The organisation also suffered from a lack of comprehensive data on the vehicles to enable it to select the right ones for it.
As part of its efforts to gather this information, in August last year CitySprint joined Leeds City Council's campaign to help tackle the climate emergency by trialling one of its electric vans for deliveries.
This was fitted with telematics to record relevant usage data and this has led the company to add another four electric vans to its operations in the city.
Accelerate data acquisition
The acquisition of CitySprint by DPD UK earlier this year has also rapidly accelerated its electric vehicle (EV) data acquisition.
To date, DPD UK has invested more than £90 million in all-electric vehicles in the UK, including its most recent order in May of 1,000 Ford E-Transit vans, which will take its EV fleet to more than 2,500.
DPD UK aims to have more than 5,000 EVs on the road by the end of 2023.
It is also providing an all-electric delivery service to 10 UK towns and cities – Bradford, Bristol, Cardiff, Hull, Newcastle, Nottingham, Oxford, Reading, Southampton and Stoke – and is now aiming for 30 all-electric locations by the end of 2023. This is five more than originally planned and two years earlier than expected when it announced the ambition in October 2020.
"We have been given access to their extensive EV trial data insights," says Bridges.
"This means we can now use its learnings to help us to shape what we need as a business in terms of make, model and size when it comes to our EVs.
"Specifically, we have identified that short-wheelbase vehicles are what we need most to bolster our London operations and enable us to meet our customer demands."
Bridges adds, in terms of the cities it operates in, CitySprint has made particularly great progress in London, where it has six electric vans, which support its critical healthcare logistics, six electric motorbikes and 29 electrically-assisted cargo bikes.
"When it comes to conducting same-day logistics in a bustling and highly-populated city such as London, it's unsurprising there are several challenges," says Bridges.
"For instance, changes to road layout such as the implementation of low-traffic neighbourhoods (LTNs), one-way systems and pedestrianised zones can significantly disrupt operations.
"Similarly, events held across the city such as sports events and protests, can also cause gridlock of the roads, impacting deliveries.
"The key to managing these and ensuring operations run as smoothly as possible is communication.
"Our couriers communicate any incidents to our operations team. This enables us to measure the impact they may have on collection/delivery times and keep our clients updated on how/if an issue may affect them."
Absorbing ULEZ costs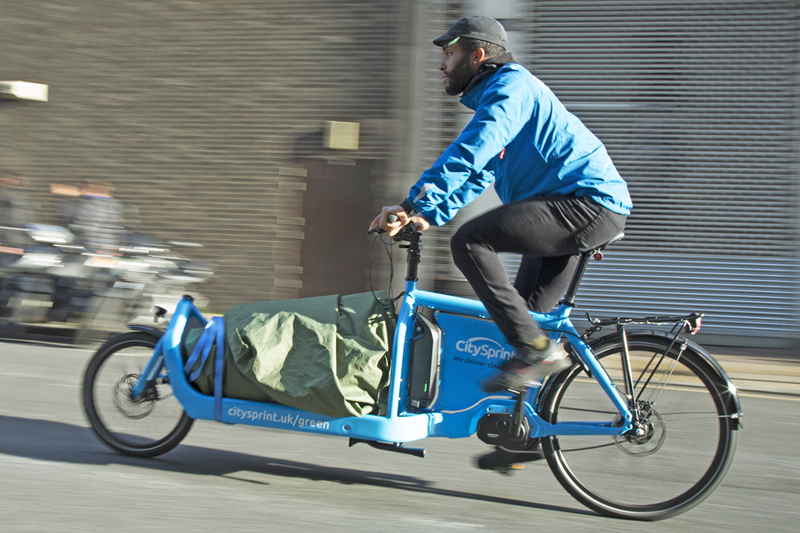 Cargo bikes have an important role to play in CitySprint's same-day deliveries in London
Additional challenges include the congestion charge and the recently extended ultra-low emission zone (ULEZ), adds Bridges.
"Thankfully, with more than 86% of our fleet already ULEZ-compliant, combined with our green fleet, we have been able to absorb the expansion with no additional cost to the business or our clients," he says.
"The congestion charging zone, on the other hand, continues to be a key consideration as approximately 40% of our deliveries either originate or terminate in the congestion zone, many of which require a small van rather than a bike."
Bridges says the range of vehicle types CitySprint uses to maximise delivery efficiencies in London has become one of its core strengths.
"CitySprint's cargo bike fleet, which was introduced in 2017, for instance, is proving extremely successful for same-day deliveries in the capital," he adds.
"The bikes are used to replace small vans as they can carry a similar load (up to 100kg) and are more nimble as they can travel in cycle lanes.
"Cargo bikes can complete journeys up to 50% faster than small vans and each cargo bike that replaces a van saves more than four tonnes of CO2 per annum."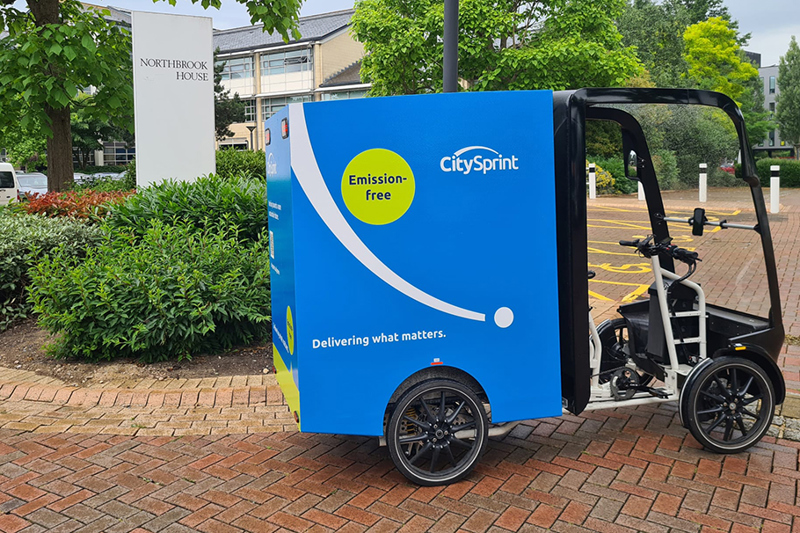 The EAV 2Cubed vehicle CitySprint is trialling in Oxford
In May, CitySprint began trialling the EAV 2Cubed vehicles in Oxford to bridge the gap between its existing cargo bikes and electric vans.
These are based on an electric pushbike and, as such, do not require a driving licence or registration with the DVLA. They can also use pedestrian areas and cycle paths.
CitySprint says the 2Cubed bike has the ability to transport up to 150kg of freight in a roomy cargo space that is completely customisable without being subject to the congestion or ULEZ zones that are found in London and are being introduced in other cities around the UK.
Since starting the trial, the EAV has travelled more than 8,000 miles and completed more than 200 zero-emission deliveries.
As well as the emissions savings made by cargo bikes, CitySprint also estimates that, compared with using a diesel van for deliveries, each pushbike and electric motorbike saves 2.5 tonnes of CO2 a year.
CitySprint has also changed its approach to charging its London electric vans. Until recently, it plugged them in at its base, but this presented a number of challenges.
"For example, our on-site chargers were slow ones, meaning that our electric vans were out of commission overnight," says Bridges.
"Additionally, it meant the vans had to return to the site to charge, limiting the jobs they were able to complete.
"These limiting factors mean that we now utilise the public infrastructure to charge our six electric vans, which have a range of approximately 150 miles, as and when needed."
However, its electric motorbikes, which have a range of 70 miles and are used to support same-day and critical healthcare logistics in London, still return to base to charge overnight.
Greener livery
As well as introducing EVs, CitySprint is taking a number of other actions to reduce its environmental impact.
It has partnered with Aura Brand Solutions to provide GreenGuard Gold accredited livery for its vehicles, which means the inks, glues and non-PVC materials used are environmentally-friendly.
All of its 34 service centres run on renewable energy while it also works in partnership with Carbon Neutral Britain to offset its carbon emissions every quarter.
It is also looking at other operational steps it can take. "We are primarily a same-day courier company and we understand that we – and the industry as a whole – need to think more carefully about the about the degree of immediacy required," says Bridges.
"That is, do we need to conduct a collection and delivery within 60 minutes, or might a three- to four-hour, or by-close-of-business, timeframe suffice?" asks Bridges.
"From an environmental perspective, a greater delivery window means we are able to combine more deliveries into a single vehicle.
"Specifically, where possible, we work with our clients to consolidate deliveries into the city centre on to green vehicles, helping us to reduce our carbon footprint power delivery."
---
Bridges on... the impact of Covid
"Over the past two years we experienced significant peaks and troughs in volume as we manoeuvred in and out of lockdowns, something which made it extremely challenging to forecast demand and therefore ensure that sufficient resource was in place as, and when, required," Bridges says.
"For instance, during the first full lockdown in March 2020, we witnessed a dramatic shift in the demographic of our London delivery profiles. Demand for short-distance, urgent work between businesses in the Square Mile evaporated almost overnight, which had a negative affect on our push bike and cargo bike fleets.
"In tandem, however, we witnessed a surge in demand for our van couriers to assist with the same day transportation of IT and office equipment from the city to the Greater London area and home counties.
"While coronavirus restrictions have now come to an end and workers are continuing to return to the city, the trend for longer-distance, same-day deliveries, which was driven by the pandemic, is ongoing.
"In line with this growing demand for same-day van deliveries, we are therefore actively looking to bolster our van fleet courier numbers, both to allow us to continue to deliver a first-class service to our customers across industry sectors and to help us to stay ahead of our competitors."