The need to replace the diesel-powered fridge engines on refrigerated transport has largely been driven by environmental factors.
While smaller vehicles, such as vans and light rigid trucks, use power from the vehicle to run the refrigeration system, the large rigids and articulated trucks use an auxiliary engine. These are typically diesel and have much less strict emission standards than the diesel engines used for vehicle propulsion.
A white paper published by Cenex last year reported that auxiliary engines emit at least 16 tonnes more nitrogen oxides (NOx) and 40 times more particulate matter (PM) than a truck's main engine and can produce up to 15 tonnes of tailpipe CO2 each year.
However, another factor has recently come into play: fuel costs.
The need for an alternative has accelerated as April's end of the subsidy for the red diesel used to fuel the engines is expected to have increased the running cost of transport refrigeration units by 60-70%.
A number of technological solutions aimed at helping fleets with this issue are already on the market, with more to come.
Some of these mean the vehicle operator will not have to throw their diesel fridge engines on the scrapheap and attempt to go all-electric immediately. A halfway house is available which will allow operators to retain the engines, but power them without having to keep filling their tanks with diesel.
This is an approach being advocated by Hultsteins with its Ecogen product. This is an electro-hydraulic package that enables diesel refrigeration units to be run electrically, with zero emissions.
To allow it to function, the truck concerned must be equipped with an engine PTO (power take-off) which is used to drive a generator.
It produces a constant 400 volts at idling speeds and can be connected to the motor of almost any make of fridge unit equipped with an electric stand-by using a five-pin plug. It does not matter whether the unit is mounted on a rigid or a trailer.
FUEL SAVING OF 85%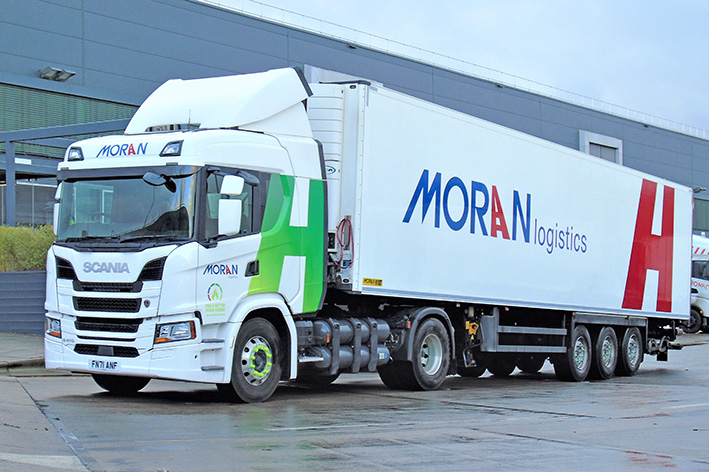 Among operators that have adopted Ecogen is Moran Logistics. The Castle Donington-based temperature-controlled transport and warehousing specialist has had Ecogen packages fitted to a pair of Scania tractor units which run on compressed natural gas.
They are used to haul trailers transporting chilled produce from a national distribution centre to stores around the country as part of contract with a major retailer.
Moran Logistics managing director Lee Graham is pleased with their performance. Refrigeration unit running costs and emissions have been slashed, he says, and Ecogen is easy to use. He says:
"It plugs straight into a three-phase socket on the trailer, so it's business as usual for the drivers."
Another company that has gone down the Ecogen route is chilled meat supplier Danish Crown.
"In addition to the fuel saving we expect to make – more than 85% less expenditure on fridge diesel – we will also be slashing our CO2 emissions," says Mark Simmons, site director for Danish Crown.
"Given that every litre of diesel burned produces 2.65kg of carbon, and our fridges will now run mostly on electricity from the Ecogen systems, we will be reducing emissions by around 50 tonnes a year."
Trailers with their diesel-fired refrigeration units still in place can continue to operate if they happen to have been coupled up to a tractor unit that is not equipped with Ecogen. All you need to do is fill the unit's tank with fuel.
The company promotes its purely-hydraulic fridge units under the Ecofridge banner.
They, too, rely on an engine PTO which is used to run a belt-driven constant-flow hydraulic pump which, in turn, powers the Hultsteins refrigeration system.
STILL WORKS OVERNIGHT
To ensure the refrigeration system still works when the truck's engine is switched off overnight and the trailer is in a location that does not have an electric stand-by, Hultsteins has developed Intelli Start.
This prompts the truck's engine to fire up and wake up the fridge unit if the load's temperature exceeds a set point in order to bring the
temperature back down again. The engine stops once the desired temperature has been achieved.
It also includes an immobiliser which should prevent a thief from driving the vehicle away – even if the engine is running.
Going either the Ecogen or the Ecofridge route means the engine will burn a little more fuel.
The economics will stack up, however, argues Hultsteins, because Euro VI truck engines are 43%-to-46% efficient compared with 20%-to-25% for a diesel fridge unit's donkey engine, and are likely to be cleaner on emissions.
Bear in mind that a diesel-fired refrigeration system mounted on an 18-tonner and running for 1,600 hours a year will burn 2,800 litres of fuel annually. That will cost almost £5,100 at the pump prices prevailing at the time of writing.
Power a fridge unit from a PTO and the truck's engine will consume an additional 300 litres of diesel annually over the same timescale costing £545; so you will be saving £4,555 a year.
One way of increasing this saving, suggests Hultsteins, is to mount solar panels from a specialist supplier such as Trailar on the roof of the truck or trailer's body and use the electricity they can produce to help drive the fridge system.
That could save around 600 litres annually dependent on the size of the vehicle; or nearly £1,100.
Diesel donkey engines also require periodic maintenance and can be noisy. Eliminating the decibels they generate may make out-of-hours deliveries a more viable option.
A low noise level is a key argument in favour of equipping a vehicle with an electric EK Whisper under-mounted fridge system, contends Frigo­block, part of the Thermo King empire.
Designed with low-height bodies on urban distribution work in mind, it can be connected to battery packs for hold-over capacity when the truck's engine is switched off. It features a split design, with the condenser mounted on the chassis and the evaporator installed in the load space.
COST PENALTIES
Switching to a new approach to transport refrigeration incurs its own cost penalties.
Carrier Transicold offers an electro-hydraulic package called Eco-Drive which can be mounted on the back of a truck engine with a PTO.
Using a variable-displacement Bosch hydraulic pump which drives a generator which, in turn, powers the fridge unit, it delivers 400 volts of
continuous three-phase electrical power and carries a price tag of £14,000 to £16,000.
Making the not-unreasonable assumption that it, too, can deliver the sort of fuel savings claimed by Hultsteins for its systems, Eco-Drive should pay for itself over three-to-four years.
Carrier Transicold is busy rolling out one of the greenest ways of powering a trailer fridge system.
Vector eCool transforms the kinetic energy generated by the trailer's axles and brakes into electricity which is stored in a battery pack used to power an engine-less refrigeration unit.
When the trailer is stationary at a warehouse Vector eCool can be plugged into the mains. The pack can be fully recharged in less than two hours, Carrier Transicold says.
Upmarket north of England supermarket group Booths has taken a trio of tandem-axle urban trailers from Gray & Adams equipped with Vector eCool along with six Daf CF 4x2 tractor units equipped with Eco-Drive.
Craig Stopforth, transport manager at Booths, says:
"We can see a clear path towards an engine-less future for our refrigeration systems. We don't anticipate specifying any that are diesel-powered from here on in."
Another UK business that has adopted Vector eCool is trailer contract hire and rental fleet company Dawsongroup, which has taken three.
It is using the system to drive engine-less versions of Carrier's Vector HE 19 MT and Vector 1550 fridge units on a pair of 13.6m trailers and a Vector HE 19 MT on a smaller tandem-axle urban trailer. All the trailers were built by Gray & Adams.
John Fletcher, Dawsongroup managing director, says:
"We're showcasing these trailers to customers so they can see for themselves how the technology can deliver a cost-effective alternative to diesel power that ticks all the right boxes from an environmental perspective."
Thermo King is heading in the same direction with Advancer AxlePower, developed in partnership with BPW and using the latter's ePower axle.
Its battery pack can keep a fridge unit running for up to five hours when the trailer is stationary, say the partners. It can be combined with Thermo King's Advancer-e electric fridge unit.
HYDROGEN FUEL CELL SYSTEM
Carrier has gone one stage further with trailer refrigeration with the unveiling of a concept system powered by a hydrogen fuel cell at the IAA Transportation exhibition in Hannover in September.
Developed in conjunction with Bosch and PowerCell Sweden AB, it is coupled to Carrier's Vector HE 19 fridge system.
A 48 volt Bosch automotive battery directly interfaces the fuel cell with the refrigeration unit, removing the need for a stand-alone engine or a separately-mounted buffer battery.
The gradual move towards battery-electric vans and trucks is also helping to drive the adoption of electrically-powered fridges.
Among those systems leading the charge is Carrier's Pulsor eCool for light commercials.
Capable of coping with fully-frozen as well as chilled work, it offers 4kW of cooling capacity and can be powered by the vehicle's traction batteries rather than a separate battery pack.
No need to worry about the impact this will have on the van's range between recharges, insists Carrier; it will typically fall by less than six miles, the company contends.
Thermo King used IAA Transportation to unveil its electric E-Series refrigeration package for 3.5-to-7.5-tonners. It was showcased on Iveco's new battery-powered eDaily with up to 15kW of capacity and is driven by the model's battery pack.
Some fleets are erring on the side of caution, however, and are specifying separate batteries to power a van's fridge unit.
Fraikin has acquired a number of battery-driven MAN eTGE vans for its Belgian rental fleet and has specified them with Thermo King's electric E-200 refrigeration packages.
They have been fitted with a separate 11kW battery pack to enable them to keep delivering temperature-controlled goods with all the opening and closing of load area doors that such a duty cycle can entail across an eight-hour working day.